For the longest time, Indian venture funds steered away from investing in consumer brands. The thesis was pretty straightforward: Brands can never be a big-bang fund returner because they operate in spaces with no network effects.
The rationale made sense. Given that consumer choices differ across age and income groups and needs, one brand cannot address all segments. To grow beyond a point, consumer companies need to consolidate. Global examples validate the trend. Cosmetic brand L'oreal grew on the back of acquisitions, as did Procter & Gamble.
So the questions most often asked in investor circles have been, is building a profitable Rs 100-crore ($13.5 million) business worth venture capital money, and is there a significant tech advantage that these brands hold?
Four years ago, the consensus was, not really.
But that view has changed. VCs suddenly like consumer brands and see even Rs 4,000-crore (about $550 million) businesses being built. What gives?
The pitch of being an 'online-first HUL or P&G'.
Platforms that began operations in the last decade, including Sequoia Capital-backed Mamaearth, Chryscap-funded Wow Skin Sciences and Accel-backed MyGlamm, have perfected the playbook of selling online. They grew with the ecommerce wave and have understood online consumer trends, performance marketing, and ecommerce sales cycles better than many traditional conglomerates.
Mamaearth and Wow Skin's sales stood at around Rs 500 crore (nearly $70 million) in fiscal year 2019-20 primarily on the back of their flagship brands.
But reaching the next milestone—a Rs 4,000-crore company—will need a bolder and more holistic approach.
And with capital on their side, these brands are seeing the market as an opportunity to acquire niche labels and fuel their broader portfolio stories.
Enter 'House of brands'.
Consumer brands raised $320 million between January and August, a bulk of which went to the personal care segment. Last year, consumer brands had raised $178 million, according to Tracxn data.
Now they want to consolidate, and investors too are seeing the opportunity.
"Now suddenly, if you think about a business this way (acquiring the right brands and growing fast), you only see the scale," said a top venture capital investor in the consumer brands space. "Keep buying and growing. Ultimately, this is what will get them into the big league of an Rs 4,000-crore business."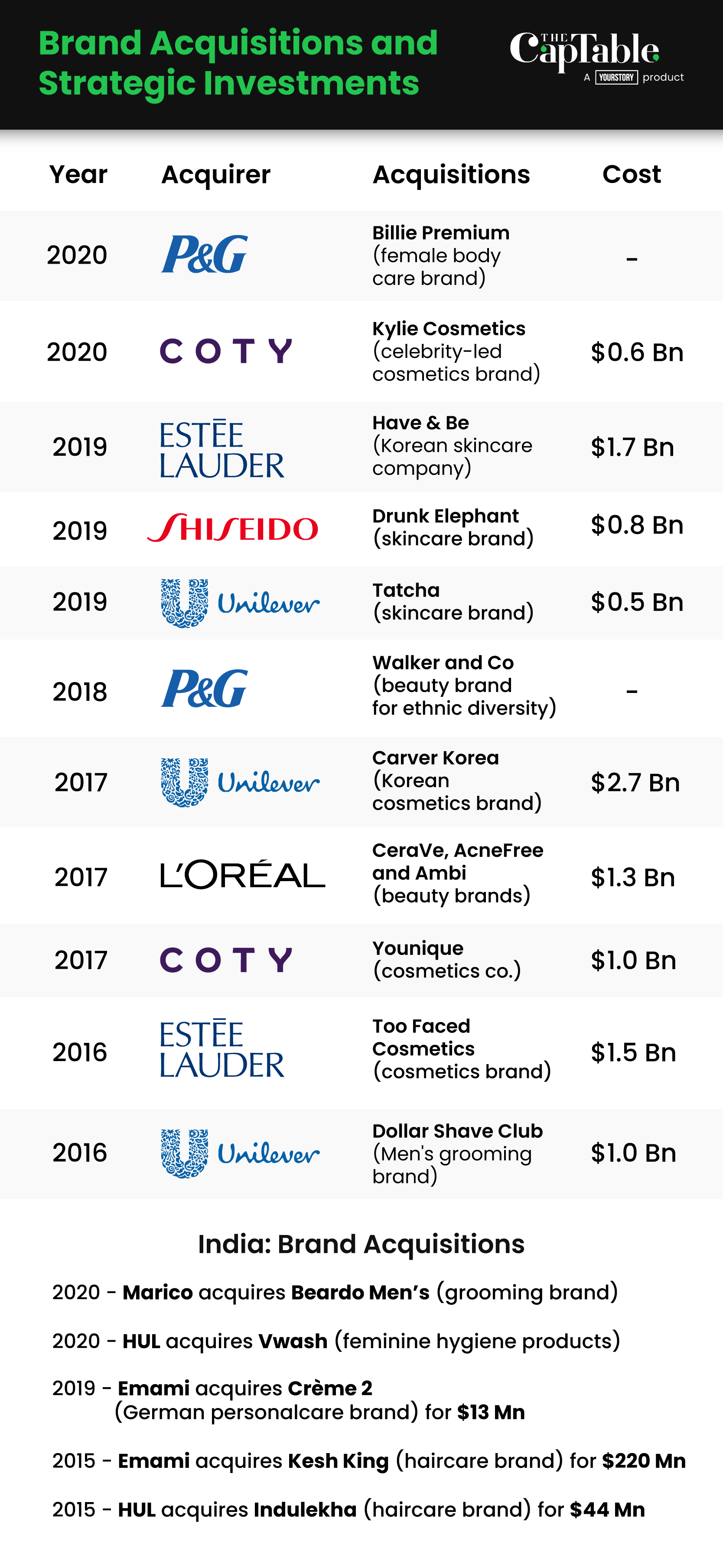 The CapTable highlights a few developments that represent the broader sentiment around the consolidation of personal brands.
Deal 1:
MyGlamm is in talks to buy out Emmbros Overseas Lifestyle, which owns the brands St.Botanica, Oriental Botanics, Man Arden, MuscleXP, and Mom & World, according to four sources aware of the deal.