Meat delivery firm Licious started operations in 2015 and in two years, its services reached about 60% of the areas in Bengaluru, its home base. A tentative beginning going by the startup world's norm of express expansion.
But today, it fulfills online orders of fresh meat and seafood in 14 cities, including most metros, and plans to add 22 more locations in six months.
Much of this new growth has occurred in the past two years, with revenues climbing by 75% from FY19 to FY20. Also, 73% of its total funding arrived in 2021, winning the company Unicorn status (over $1-billion valuation) last month.
Its numbers signify the larger movement in a new market of meat products and delivery, which until 2020 seemed destined to remain a niche vertical of online grocery. The increasing demand and product range, especially the ready-to-cook and -eat categories, show the market has gone mainstream.
At least four other startups, including FreshToHome and TenderCuts, are also generating consumer and investor interest. All of them saw revenues rise by well above 50% in the financial year ended March 2020 from a year earlier and are now looking to cover more territory.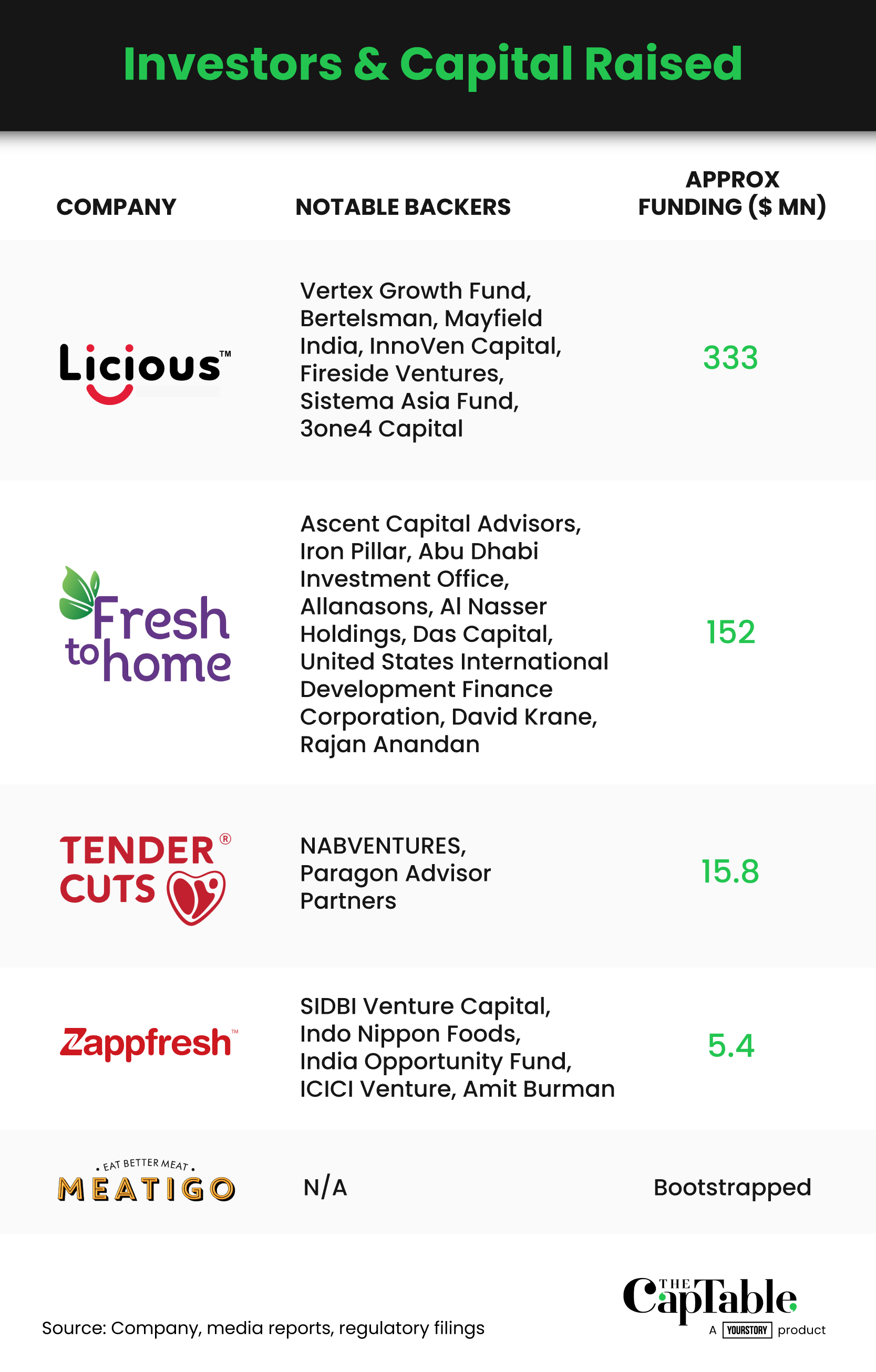 The growth story is not limited to the topline. Market access and penetration have improved considerably, and even established omnichannel players like Nandu's are pursuing aggressive strategies.
Top international investors such as Prosus (Naspers), Tiger Global and Falcon Edge are looking to bet on meat delivery in India, according to multiple people aware of ongoing conversations. Fresh produce supply-chain company Ninjacart, food delivery major Swiggy and ecommerce giants Amazon and Flipkart are also considering strategic investments, they add.
"Most consumers don't shop for meat along with their groceries. It's a standalone activity and purchase. Essentially, meat is an independent category. This realisation has finally dawned upon investors and businesses," an investor evaluating the sector told The CapTable.