When the Covid-19 lockdowns began last year, startups went into survival mode. They cut discounts and accelerated monetization initiatives. When the lockdowns began easing, the startups were leaner and better equipped to seize opportunities rising from the growing dependence on the internet to do all kinds of business—from supplying construction material to builders to getting groceries delivered at home.
There can be no better illustration of the fact that digital is the way to go than the Tata Group, a 153-year-old steel-to-software conglomerate, spending $1.2 billion in cold hard cash to acquire online grocery retailer BigBasket. This would have been unimaginable before the lockdowns.
But with the crazy funding environment, which we have captured here and here, the question is how much of the cost discipline of the early days of lockdown will sustain.
In this second part of our Pandemic Report Card, The CapTable analyzes how seven major digital sectors—wealth-tech, video streaming, food delivery, edtech, B2B commerce, online travel, and grocery delivery—fared through the lockdowns, tracking them through their spikes and their lowest points.
We have categorized how fast the key players in each of these sectors have been able to recoup after the tumultuous early months of the previous financial year when the government imposed a nationwide lockdown.
In Part 1 of our Pandemic Special, we analyzed the ecommerce, mobility, digital payments, online pharmacies, short videos, and gaming sectors.
GROCERY
Editor's Revival Rating: So-so
Companies in Focus: BigBasket, Jiomart, Grofers, Amazon, Flipkart
Short Narrative: The lockdowns drove unprecedented demand for buying grocery for both consumption and panic storage. As modern retail and nationwide chains struggled to keep up with customer orders for the first three months of the lockdown last year, neighborhood 'kirana' stores and online grocers stepped in. Several people bought groceries online for the first time.
But systems broke. Online orders that would normally have been delivered in hours were delayed by weeks as supplies were disrupted.
For the long-term, though, it's been a positive for the sector. The lockdowns forced consumer goods retailers to bolster their online presence and work with ecommerce giants for better distribution. Conglomerates have embraced technology, and multiple ecommerce models such as hyperlocal delivery, morning deliveries, and value buying commerce are thriving.
Turning Point: In May, Reliance JioMart rapidly expanded to 200 cities, putting grocery at the centerstage of the rivalry between traditional retailers and technology giants. Flipkart and Amazon accelerated scaling up their grocery businesses. And earlier this month, Tata Group sought the competition watchdog's approval to buy a majority stake in BigBasket, India's largest online grocer.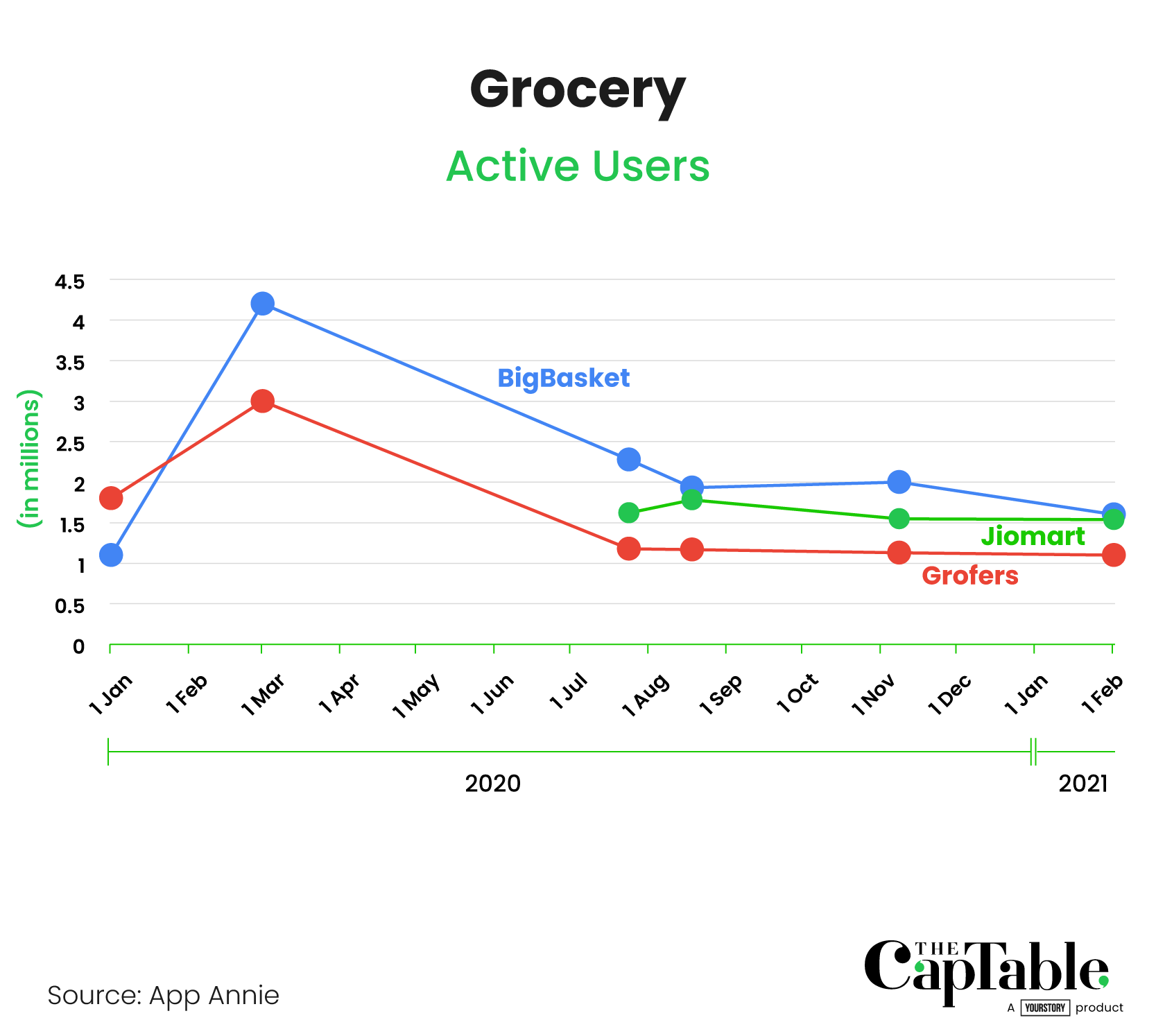 Numbers Say: Daily active users for online grocery delivery more than doubled during the lockdown, according to App Annie data. However, since then, user activity patterns have progressively dropped to pre-lockdown normals.