The Covid-19 pandemic has meant different things to different businesses. For some, it's been their best year, and for others, the lockdown has washed away decades of hard-earned moats. But investors, founders, consumers, and employees, everyone says the year that went by has forced them to think beyond their comfort zones and explore new ways of doing things.
Many digital companies were able to reduce costs such as on customer acquisition due to increasing organic traffic, and office maintenance with employees working from home.
Some behavioral change benefits are likely to last decades, while some may fizzle out as India's vaccination drive scales and the economy opens up. What's clear is that technology has taken center stage in our lives.
The CapTable analyzed how six major digital sectors—ecommerce, mobility, digital payments, online pharmacies, short videos, and gaming—fared through the lockdowns, tracking them through their spikes and their lowest points.
We have categorized how fast the key players in each of these sectors have been able to recoup after the tumultuous early months of the previous financial year when the government imposed a complete nationwide lockdown.
This is the Part 1 of our Pandemic Special. On Thursday, we will publish our analysis on other digital sectors including grocery, wealth-tech, and ed-tech.
RIDE-HAILING
Editor's Revival Rating: Low
Companies in Focus: Ola, Uber
Short Narrative: The use case for mobility has fundamentally changed since the Covid outbreak. For weeks during the lockdown last year, ride-hailing startups were banned from operating.
Even after that, as airport transits and office commute—both high-frequency use cases for mobility platforms—dropped, business fell drastically.
Ola, Uber and Bounce have all undertaken major layoffs in the past year to calibrate their fixed cost structures.
Double Whammy With Regulations: In November, the Ministry of Road Transport and Highways issued regulations for app-based ride-hailing firms, setting the maximum commissions they can charge drivers at 20% of the gross fare and restricting surge pricing to a maximum of 1.5x the base fare.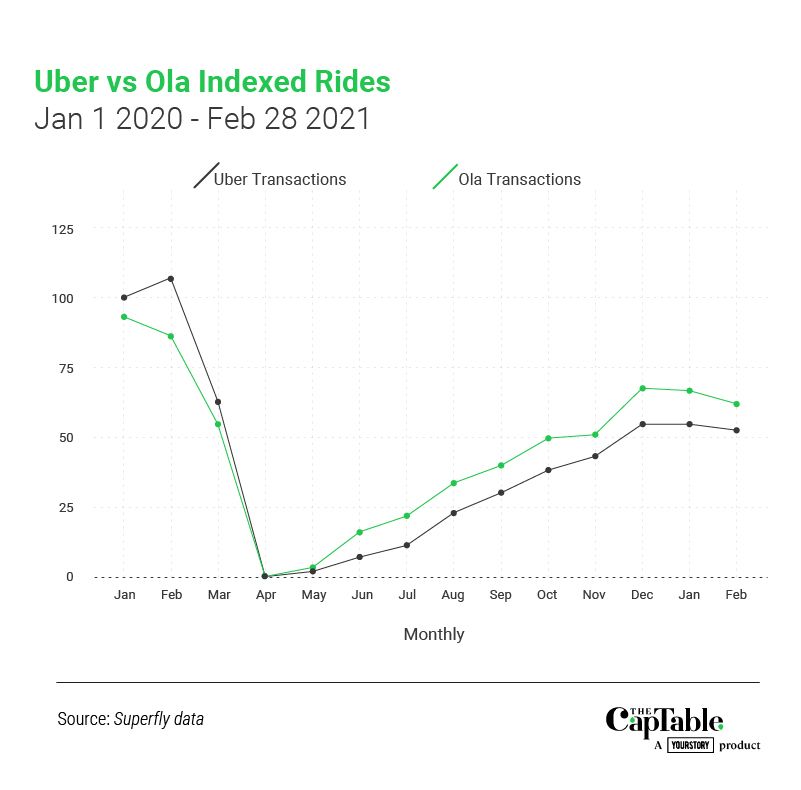 What Stands Out: Among all the mobility segments, auto-rickshaws and bike taxis have recovered the fastest, clocking 23 million and 12 million rides, respectively, during January, according to Redseer. Also, there is more demand for short-term vehicle rentals than for on-demand taxi rides, according to Avendus.
Numbers Say: Ola has bounced back stronger than Uber post the lockdowns, show data shared by Superfly, an Israel-based analytics company. This is largely because Ola was able to market its safety proposition more convincingly than Uber, and as it has a stronger auto-rickshaw category, say industry experts.
The mobility sector is recovering in fits and starts, regaining nearly two-thirds of its peak 2020 business in December but slowing afterward.
What Next? With the vaccination rollout in progress, people expect ride numbers to inch back to pre-lockdown levels in the next few months, but growth will continue to be slow.
With office commutes still staying low, regulations disincentivizing ride-hailing companies from further investments, and more people buying cars, the momentum of shared mobility will take longer to bounce back.
Global Cues: Funding fell 5% to $27.6 billion in 2020, after falling 20% in 2019. The number of deals fell 21% to 522, the second consecutive annual drop, according to CB Insights.
Despite a weak start to the year, activity picked up in the second half of 2020 as companies addressing electrification and autonomous vehicles drew significant interest from investors.
ECOMMERCE
Editor's Revival Rating: High