Indian startups are reacting swiftly and with greater fortitude to the human and business crisis unleashed by the pandemic's second, more ferocious onslaught.
With much at stake following the frenzied fundraising of the first quarter, these companies are switching to their pandemic playbooks drawn up last year, but also going beyond to address the humanitarian crisis around them.
Although startups are tempering their expectations, factoring in disruptions that could last weeks or months, several are preparing their teams to shift gears from survival to growth mode swiftly for whenever the business cycle picks up.
"Last year, it was a survival mode and a lot of uncertainty. The questions were around how much cash do we have left in the bank. Revenues had fallen to near zero," said Darpan Sanghvi, CEO of beauty startup MyGlamm. "This year, the focus is more on minimizing loss, conserving revenue momentum, and dealing with uncertainty around growth."
The CapTable spoke with more than a dozen entrepreneurs and senior executives to understand how startups are dealing with the crisis. Several states are contemplating lockdowns again with India's Covid infections and toll estimated to be among the highest in the world.
THE UPSHOT
Startups are fast revising their pandemic playbooks from last year, unwilling to suffer another slowdown even as the virus rages unrestrained. Key to this will be finding a suitable working model for employees, be it completely remote or hybrid
For many startups, the immediate focus is on the safety and wellbeing of their employees. Several companies had opened their offices as the lockdowns eased, only to see the virus creep up on their staff.
"Full teams are going down. Right now, the intent is to keep our heads above water," said the founder of a mid-sized company, concerned about the spread of the virus in his organization. "This is different from last year, and hitting closer to home."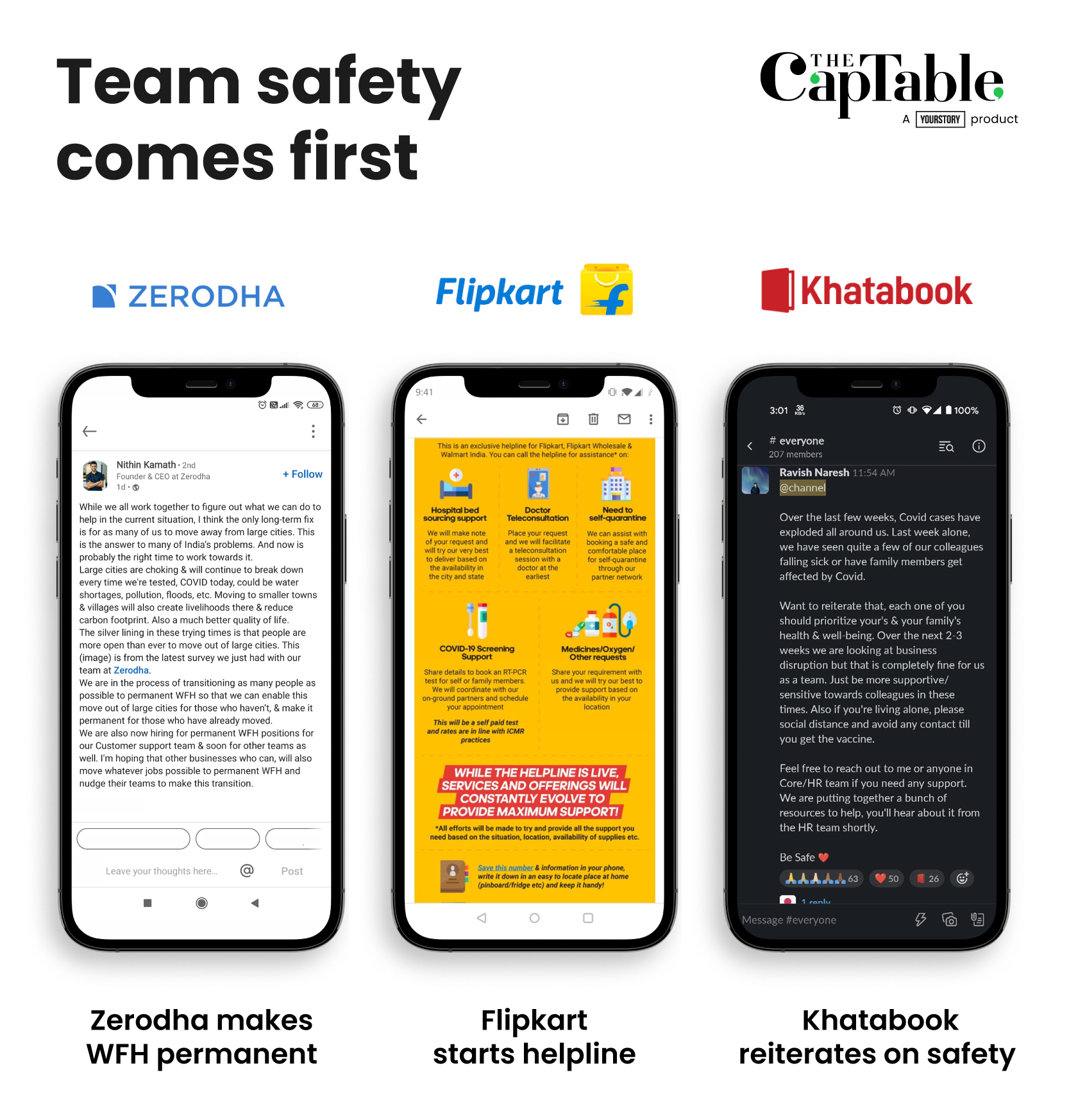 Flipkart has set up a helpline to see its employees through the crisis. Logistics startup Shadowfax is working with local authorities to get its frontline staff vaccinated on priority. Online brokerage Zerodha has categorized some roles as permanently remote.