Shortly after news of Tiger Global Management's investment in Groww surfaced in February, the market buzzed with reports of the fund's plans for rival wealth-tech companies in India—ClearTax and UpStox.
There have been reports that Tiger Global is in talks to lead a $100 million investment in ClearTax, which recently launched a wealth management product called Black. Also that UpStox is considering a US stock market listing through a merger with a special purpose acquisition company.
The update on UpStox is that the New York-based Tiger Global's public market arm will back its plans to raise as much as $300 million through a SPAC deal, according to two sources briefed on the matter. "UpStox may go as high as $1.4 billion for the deal," one of them said.
That would be a big outcome for Tiger Global, which first invested in UpStox at a valuation of about $120 million less than two years ago. Whether UpStox's recent customer data leak will put a spanner in the works remains to be seen.
While Tiger Global first invested in UpStox and IndWealth in 2019, Groww, now valued at nearly $1 billion, and ClearTax are the latest additions to the investment firm's wealth-tech portfolio.
THE UPSHOT
Tiger Global's pace has made other investors nervous but entrepreneurs happy, leading to both panic and euphoria in India's startup ecosystem. Even with the presence of giants like SoftBank and Naspers, Tiger dictates the pace of dealmaking in India
Backing multiple companies in the same industry is not unfamiliar for Tiger Global. After investing in US stock broking app Robinhood, Tiger also participated in Public.com's $200 million fundraise.
"Tiger Global is very clear that they are in the business of backing the race and not the horse," said a partner at a venture capital firm that has multiple co-investments with Tiger Global.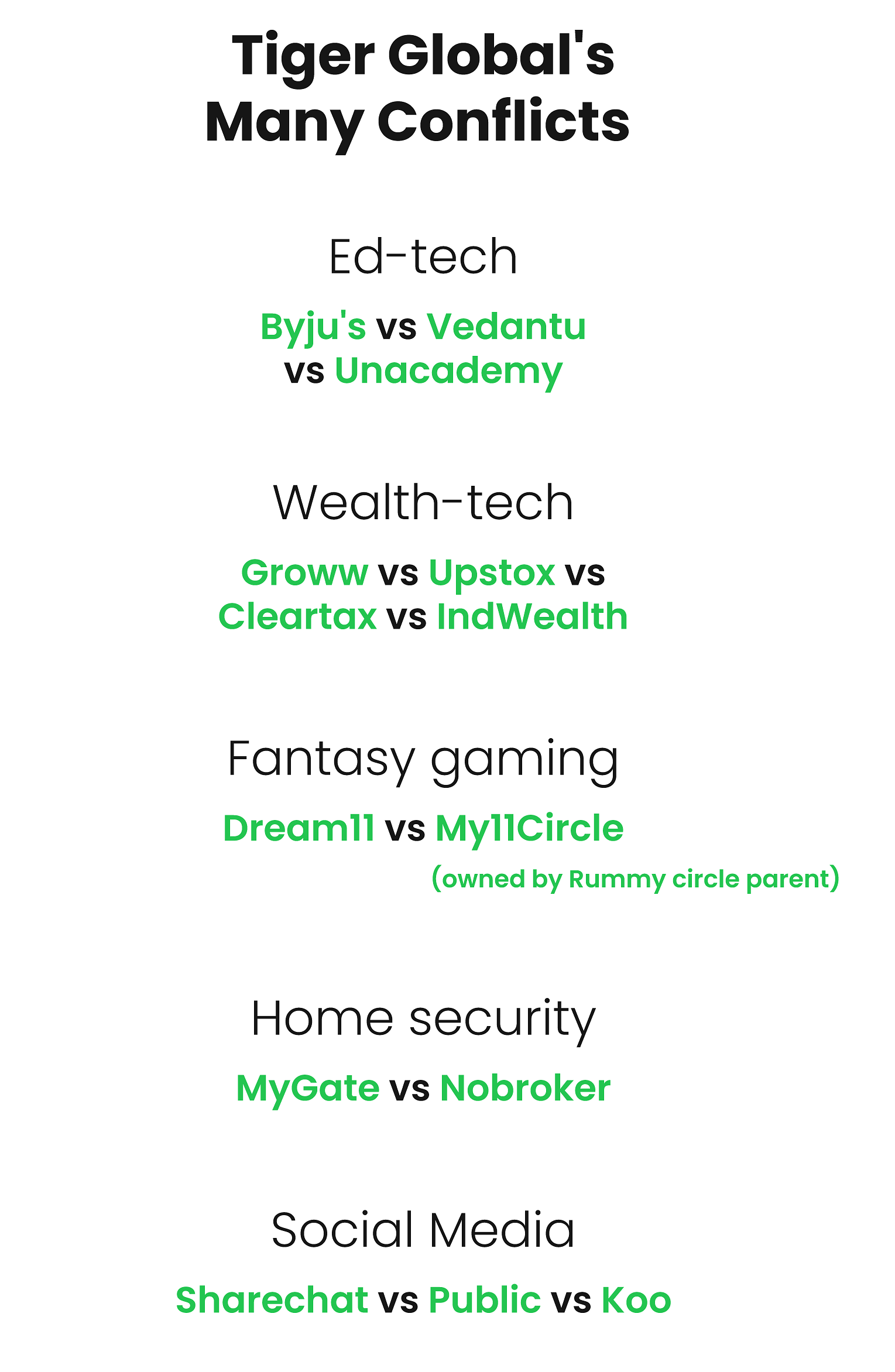 The investment firm has announced 54 deals this year, show data from Tracxn. These are part of a global spree of activity orchestrated by Scott Shleifer and his lieutenants. The firm, called Tiger Technology in its early days given its focus on the sector, has over $65 billion in assets under management across public and private markets.
In India, the firm has closed term sheets or transactions in 12 new startups across social media, fintech, ecommerce, healthcare and software services this year, according to a dozen entrepreneurs and investors The CapTable spoke with for this article.
In addition, Tiger Global has led fundraises by its portfolio companies in India, including by business-to-business marketplace Infra.Market and software services firm Innovaccer. This is a part of its playbook, backing potential winners with more cash.