Over $10 billion has flowed into India's startup ecosystem this year and there is no slowdown in growth stage fundraising. With the world flush with liquidity, startups in India are raising more and more capital. Companies are entering the Unicorn club at a record pace. The bullishness is across stages, but the contrast from previous years is in the increased appetite for growth stage rounds.
A partner at a venture capital firm offered an explanation, saying it has become easier to raise capital once a company reaches $400-500 million in valuation. "This is because it opens up an opportunity to raise over $100 million in funding and many (global) investors have minimum investment requirements," he said. "They are willing to pay forward multiples now."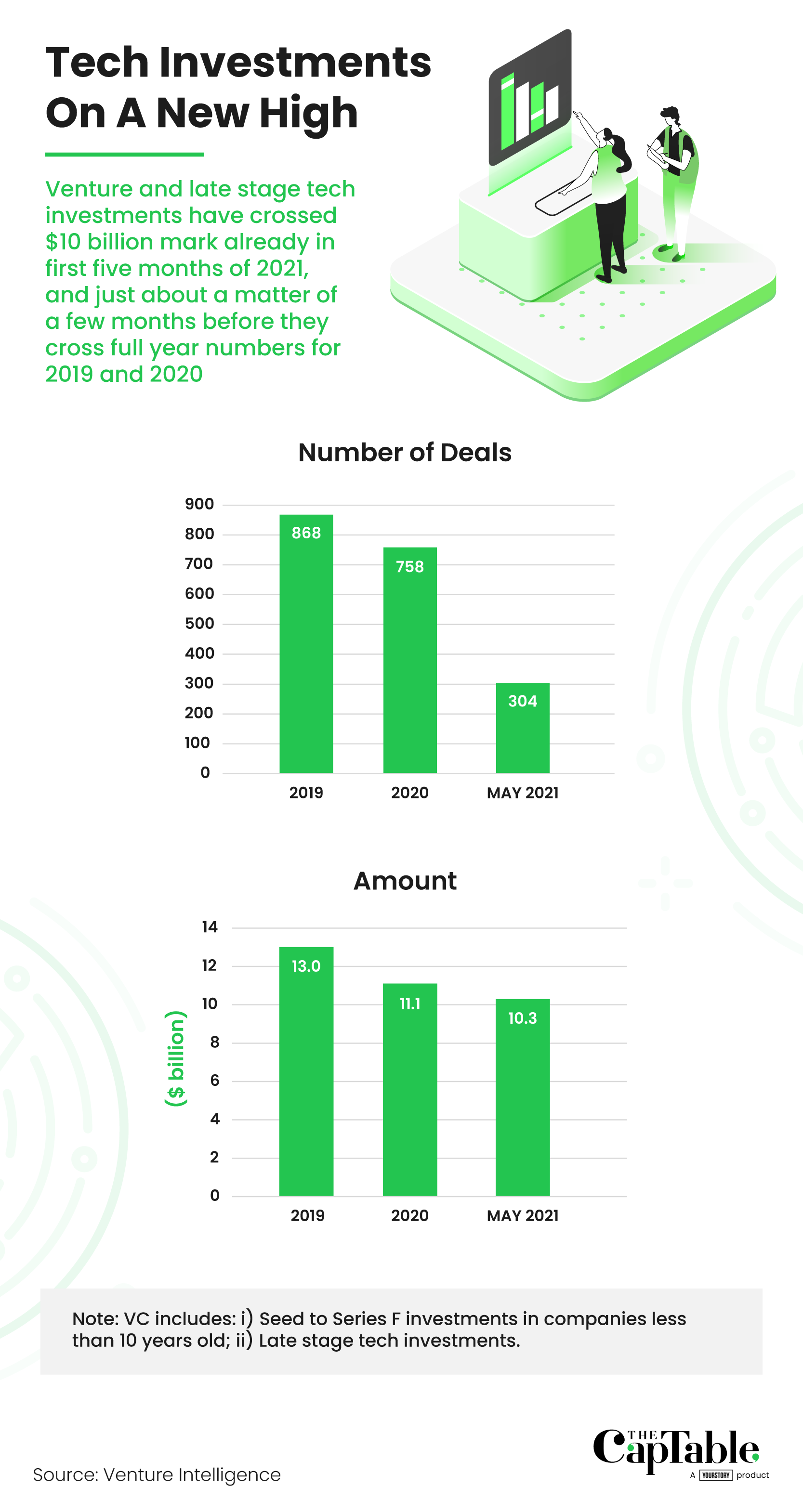 This shift has been led largely by a flush of global investors such as Coatue Management, D1 Capital, Baron Funds, Wellington Management, and state-backed investment firms from Singapore and Abu Dhabi. This is in addition to the likes of Tiger Global Management, SoftBank Vision and Falcon Edge, which have become more active than usual over the last few months.
As a result, several startups are raising funds even if they don't need the money immediately. Another venture capital investor cited a recent conversation with a founder who had a significant amount in the bank but was still raising money. Why? Because, as the investor recalls the founder telling him, "the market is hyper."
Venture capital investors have started warning startups about the downsides to this trend. Some, very publicly:
But there's another side to this argument—that entrepreneurs should always raise capital, even when they don't need it, so as to build a buffer.
And money is cheap right now.
The CapTable analyzes the most important/interesting transactions in India's startup ecosystem, the key drivers, and the people behind them.
Goes without saying that several of these deals are still in discussion and the talks could fail or the outcomes could be quite different.
Let's dive right in.
ShareChat's Fundraising Flex
In the one year since India banned China's ByteDance, which owns TikTok and Helo, there has been no stopping local social media startup Mohalla Tech, better known by its brands Moj and ShareChat. Intent on keeping its fundraising lead against local rivals, the startup is plotting another round.