"Chaos is a beautiful thing. Move fast. Break things." That motto has been Bounce CEO Vivekananda Hallekere's frequent chant at company town halls, one that former employees believe he's lived up to.
Hallekere is an outlier in the Indian startup ecosystem. For one, he is a chartered accountant, not an engineer from a top institute, which is the usual profile of young, first-time entrepreneurs raising hundreds of millions of dollars from top venture investors.
And he is a hustler. He started Wickedride Adventure, a rental service for high-end motorcycles, in 2014, pivoted to bicycle rentals, and then in 2016, to a scooter-sharing service. In 2018, the company pivoted to a dockless scooter-sharing model and rebranded as Bounce.
The dockless bike business attracted over $175 million in funding between June and December 2019.
Top-tier venture capital firms, including Sequoia Capital, Accel, Falcon Edge and B Capital, resonated with Bounce's dockless scooter-sharing model, despite global parallels of Ofo, Lime and Bird failing to scale up. The two-wheeler rental model was already proven in Bengaluru and Hyderabad. And Bounce's roadmap to tap another 100 cities and its electric mobility future looked promising.
"Vivek was able to convince global investors that India was not like China or the US, and that this behavior would play to the company's advantage while scaling up," said a hedge fund manager who has evaluated the company.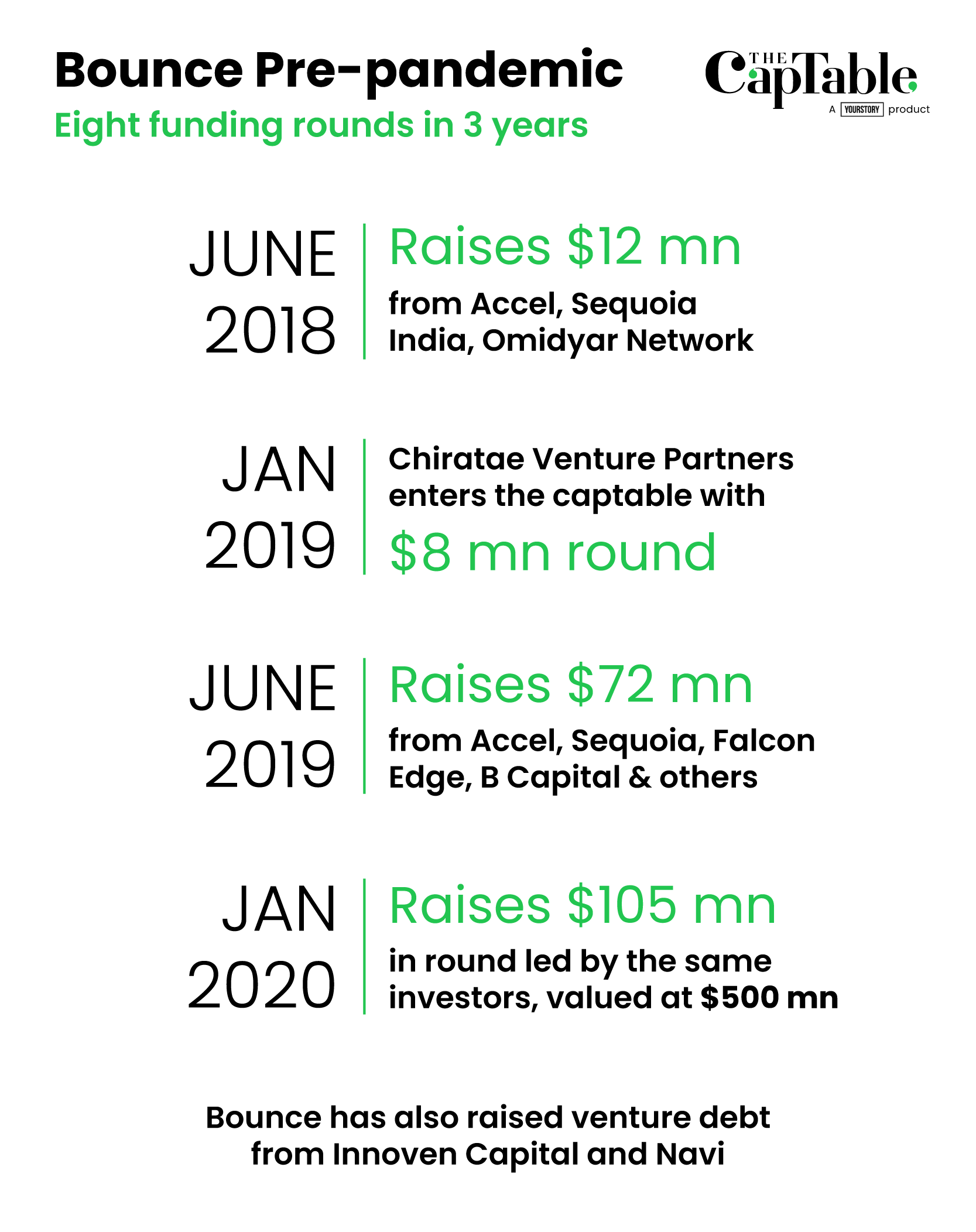 Bounce used the funding to quickly scale up, and reached 120,000 rides a day. The startup, founded in 2014, had more plans in mobility, including venturing into the electric vehicle market and manufacturing.
But the pandemic struck and Bounce saw its business collapse overnight.
"At the beginning of the pandemic (early 2020), Bounce had roughly Rs 700 crore in the bank; by the end of January 2021, it had Rs 450 crore," said an investor with direct knowledge of the matter. "Effectively, during the lockdown, Bounce burnt Rs 250 crore."
Hallekere clarified that Bounce has upwards of Rs 500 crore in the bank as of date.
A revival in the dockless bike business seems stretched. But Bounce has moved to hedge its business model with its electric mobility ambitions.
"When you have over Rs 400 crore in the bank, you don't die, you pivot," Source directly aware of the company's plans said.
Even as Covid-19 hurt Bounce's core operations, the company and its investors were confident about its plans to build electric scooters and a battery-swapping infrastructure.
Bounce spun off an entity called Zuink Smart Mobility Solutions and hired a team focused on its electric mobility business. In December, it announced plans to transition to a 100% electric vehicle fleet by the third quarter of fiscal year 2021-22.
"Electric two-wheelers are significantly more profitable than petrol," said the source quoted above. Bounce's electric two-wheeler mobility plans hit a roadblock when its conversations to acquire Booma Electric fell through. Booma had been handling the prototyping and manufacturing for Bounce two-wheeler electric scooters, while the designing was taken care of by the company inhouse.
"Our teams worked together and built the first scooter. So our first natural choice was to see if we could acquire it… but that didn't go through for multiple reasons. So we decided to continue to have them as vendors," Hallekere told The CapTable.
Instead, Bounce recently acquired 22Motors. The EV manufacturing startup had shuttered last year after building an electric scooter and is now expected to power Bounce's electric two-wheeler manufacturing ambitions.
How did Bounce get here?