The race to build India's Thrasio—homegrown startups modelled after the blockbuster US aggregator of online brands—may soon pop up two Unicorns in record time.
GlobalBees, promoted by Firstcry founder Supam Maheshwari and incorporated in May, is in advanced discussions to raise fresh equity funding and seeking a valuation of $800 million-$1.2 billion, said two sources familiar with the development.
The new round to raise $100-200 million, according to an investor briefed on the matter, comes three months after GlobalBees raised $150 million in an equal mix of equity and debt from SoftBank, PremjiInvest, ChrysCapital and Lightspeed Venture Partners.
"The post-money valuation for GlobalBees is expected to cross Unicorn level with this transaction," said the investor.
Former Myntra CEO Ananth Narayanan's Mensa Brands is also rushing to cross that landmark milestone. The startup is looking to more than triple its valuation to $1 billion for its fourth round of funding in six months.
Incorporated in April, Mensa in May announced a $50-million series A fundraise, including debt and equity, from Accel India, Norwest Venture Partners and Falcon Edge's Alpha Wave Incubation.
Then, in July, it raised an internal round of funding from the same investors at a valuation of nearly $200 million. In this round, it raised equity of about $33 million.
Soon after, Mensa roped in Tiger Global Management for a $10-20 million investment in August, securing a promise that the US hedge fund would invest more in the startup's next fundraising round. Tiger Global, which backs another Thrasio-style play in Goat Brandlabs, came in at a valuation of $300 million.
For its latest fundraise, Mensa is in talks with Accel Growth and existing investors Tiger Global and Alpha Wave Incubation. Moneycontrol first reported Mensa's new round.
"We are in continuous discussions with various investors on potential funding in various formats. Both investments and valuations are in a dynamic growth stage," said a Mensa spokesperson. GlobalBees declined to comment.
"There is so much liquidity and everyone is betting on high risk," said an investor briefed on the latest fundraises. "These rounds are being raised on potential. The game will be on execution after the funding, and on how much they can improve the performance of their assets (their brands)."
This comes at a time when a slew of other Thrasio-like plays including 10Club, Upscalio, Evenflow and Powerhouse91 has also raised funding. But with GlobalBees and Mensa racing toward Unicorn valuations, entrepreneurs and investors expect fundraising in this market to become tighter and trigger consolidation.
To top it all, the pioneer, Thrasio, is also in talks to enter the Indian market with a massive war chest. It has held talks to buy Lifelong, a manufacturer and retailer of appliances and fitness goods, according to a report in The Economic Times.
Lifelong recorded a revenue of Rs 76 crore on a loss of Rs 6.8 crore in fiscal year 2019-20. Since then, it has grown exponentially, expanding to multiple categories and deepening its marketplace relationships.
Thrasio has also held conversations with smaller brands.
"They have to come in now because the big ones are getting bigger much faster. So it's either now or too late," said an investor aware of Thrasio's India plans. "They were earlier waiting for the regulatory environment around ecommerce to settle, but not anymore."
Homegrown Thrasio-model companies, too, are aggressively competing to acquire small brands. This is because investors are mainly evaluating these startups based on how many high-revenue brands they can acquire.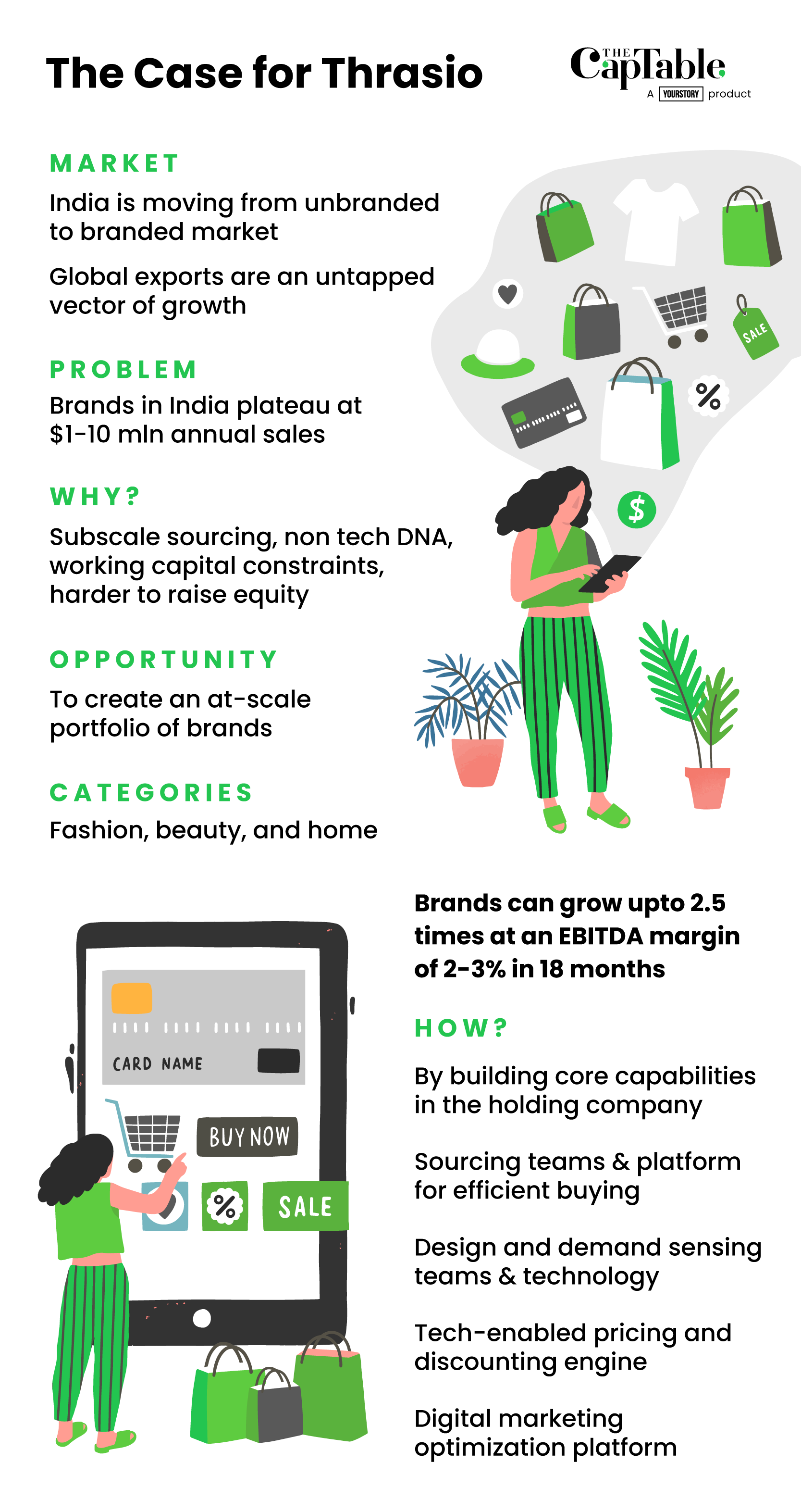 "There is a desperation in the market because if the transactions do not close then new rounds of funding will be hard to raise," said an entrepreneur involved in these transactions. "So some of the initial transactions are being closed at any price possible."
The CapTable analyzes how competitive deals for brands are being struck at revenue multiples, and how startups such as Mensa are projecting revenue growth in hopes of improving the toplines of their assets.