Hospitality major Oyo's tight links with Japan's SoftBank tend to evoke comparisons with WeWork.
The US-based office-sharing startup and Oyo count SoftBank as their largest investor, and their founders established close bonds with the Japanese internet major's Masayoshi Son.
Also, WeWork and Oyo managed to secure lofty valuations comparable with that of technology startups, although they operate in the traditional office rentals and hotels industries, buying and leasing real estate. Both companies spend aggressively, and both are loss-making.
But in July 2019, two developments set them apart.
On July 18, Wall Street Journal reported that WeWork founder Adam Neumann had cashed out $700 million through share sales and debt, "an unusually large sum given that startup founders wait for the IPO to monetize their holdings." At the time, WeWork was valued at $47 billion and planning an IPO. But the IPO failed as the company showed heavy losses and inside transactions favoring Neumann, because of which he was asked to leave. WeWork is now planning to list through a special purpose acquisition company at a valuation of $9 billion.
Oyo's Ritesh Agarwal announced that he was buying shares from investors at a valuation of close to $10 billion to increase his shareholding in the company from less than 10% to over 30%. The share purchase was financed through a $2-billion loan taken in a Cayman Islands-registered special purpose vehicle called RA Hospitality, an unheard of deal in the startup world.
So while Neumann was cashing out, Agarwal was all in. And though this has not been officially disclosed, several reports have stated that SoftBank's Son personally guaranteed Agarwal's loan.
But Agarwal's collective shareholding of 33% is still smaller than SoftBank Vision Fund's nearly 47% holding in Oyo. This was a clincher to SoftBank becoming a promoter in Oyo, even though it is not operationally involved in the day-to-day running of the business.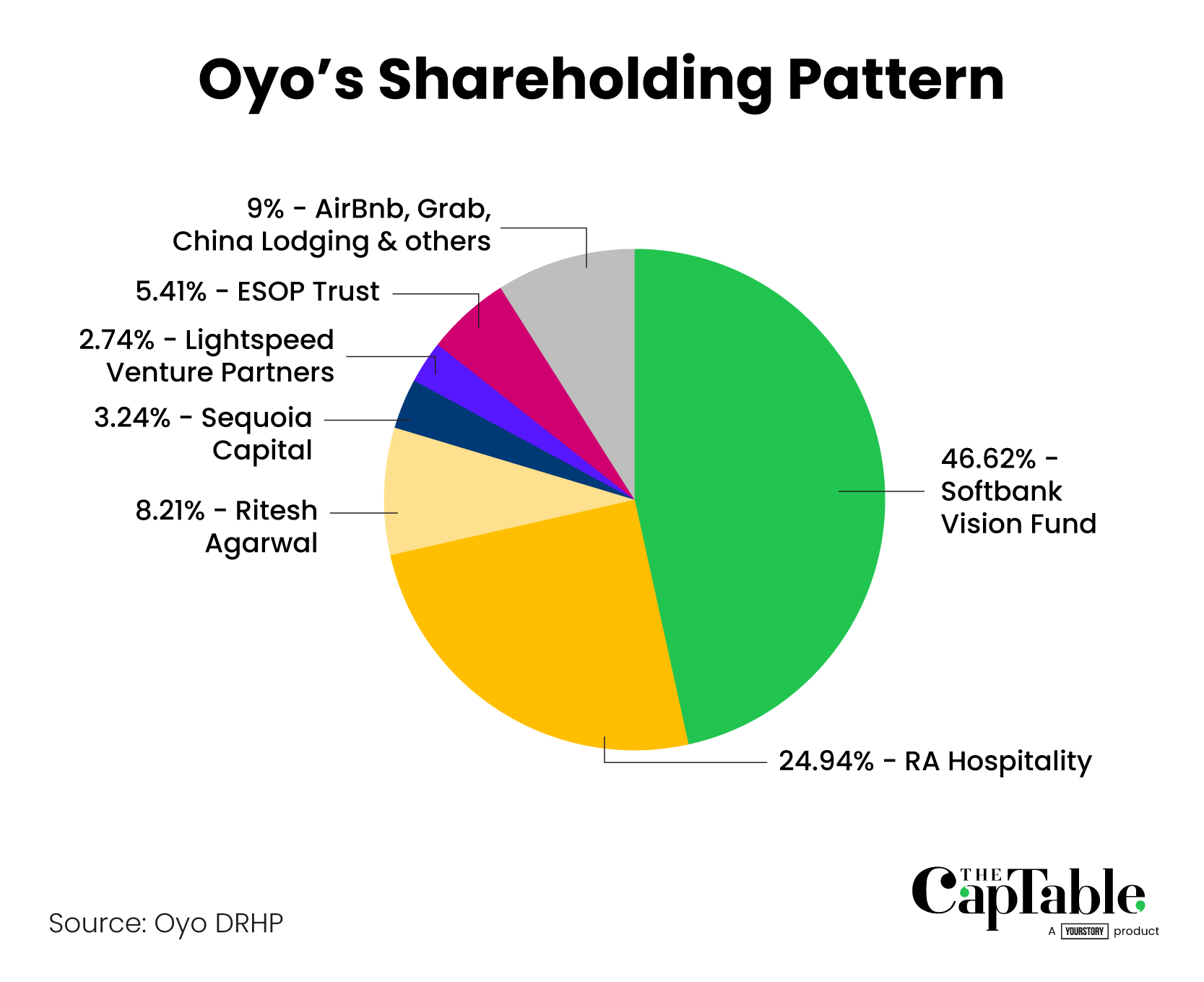 A leading capital markets lawyer said the development isn't without precedent. India's largest venture capital firm, Sequoia Capital, acted as a co-promoter of SKS Microfinance during its public share offering in 2010, and then for Prataap Snacks in 2017. More recently, private equity major Blackstone was a promoter in the public offering of auto component maker Sona BLW.
"Promoter is a control concept. It really depends on how much shareholding you have," said the lawyer, who has been involved in public issues where investors have been named as promoters. "In any company where the (investor) shareholding is north of 25%, (the Securities and Exchange Board of India) will expect that entity to be named as a promoter."
This is especially true if an investor holds a higher stake in a company than the founder. For a company to list as a promoter-run business, its founders will need to own at least a 20% stake in it after the IPO. This is why Zomato, Paytm and Policybazaar have or are going public as professionally managed companies.
Even so, the Oyo-SoftBank arrangement is unusual, given the specifics of how SoftBank has been categorized as a promoter and the safeguards it has negotiated for itself.
Oyo's public offer filing classifies SoftBank Vision Fund as an "Investor Promoter", while Agarwal is "Promoter 1" and RA Hospitality is a "Corporate Promoter". This is because Agarwal is also considered to be promoter of RA Hospitality, and collectively both are "Founder Promoters".
SoftBank has agreed to contribute up to 10% of its stake in Oyo toward the mandatory promoter lock-in of 20% stake. But as a part of the agreement signed on September 30, the day Oyo filed for the IPO, it has sought a $1-billion protection for any issues it might face on being named a promoter.
"SoftBank has not been a promoter in any company anywhere in the world. So in the case of Oyo it was not a choice, but more of an outcome of the law of the land," said a person involved in Oyo's IPO process. By becoming a promoter, SoftBank will be restricted from selling any further shares for 18 months, besides the $178 million cash-out it is taking as a part of the IPO process.