One core belief underpinned Delhivery founders' plans when they launched the company in 2011 — that they were betting on India's internet story, primed for explosive growth, rather than on the logistics industry's inherent potential alone.
Sahil Barua, Mohit Tandon, Bhavesh Manglani, Suraj Saharan and Kapil Bharati started off with food-delivery services before becoming highly focused on ecommerce, which emerged as a vaster market.
At the time, traditional logistics companies were not geared to cater to the demand generated by online shoppers. They mainly moved B2B packages of documents, whereas the delivery of consumer products required very different warehousing, last-mile and payment-handling capabilities. Cash on delivery, for instance, complicated the firms' backend processes.
Established players such as Blue Dart and Gati perhaps didn't see merit in building new infrastructure because a) the overall online retail market had not hit $1 billion in sales and b) platforms like Amazon were yet to enter the scene. (Amazon's Indian marketplace went live in 2013.)
For these players, ecommerce deliveries were an afterthought. "Before the Covid-19 pandemic, traditional retail adopted ecommerce but never fully embraced it. Similarly, traditional logistics companies incorporated it into their existing document-delivery infrastructure in 2014 but didn't build separate capabilities, which led to higher costs," explained an investor in the logistics space.
Context: Blue Dart's revenues for the fiscal year ended 2014 were Rs 1,934 crore ($261 million), with e-tailing accounting for 11% of the income. Delhivery closed that year with just Rs 61.9 crore ($8.4 million) in revenues.
But Delhivery spotted the gap in the market early and scuttled in from the periphery, developing a third-party logistics service for online retail. "I remember calling it the Blue Dart of online retail then," the investor said.
Today, Delhivery has nosed ahead of the big competitors. While Blue Dart closed FY21 with Rs 3,280 crore ($443 million) in revenues, its topline remained stagnant, growing at just 3% since FY19. Delhivery, in contrast, has a topline of Rs 3,646 crore ($493 million), growing at 31% in FY21.
However, Blue Dart is profitable, whereas Delhivery incurred losses of Rs 415 crore ($56 million). Delhivery is already looking at addressing this as it eyes the next phase of growth.
The decade-long journey has seen a scrappy startup breaking into a tough, fragmented industry and checking off major milestones:
Unicorn badge
Leading logistics and supply chain firm
IPO filing
"It's been a roller-coaster ride with several challenges. In the logistics business, you are fighting for every rupee from a pool of clients that is limited," said a person tracking the company's growth.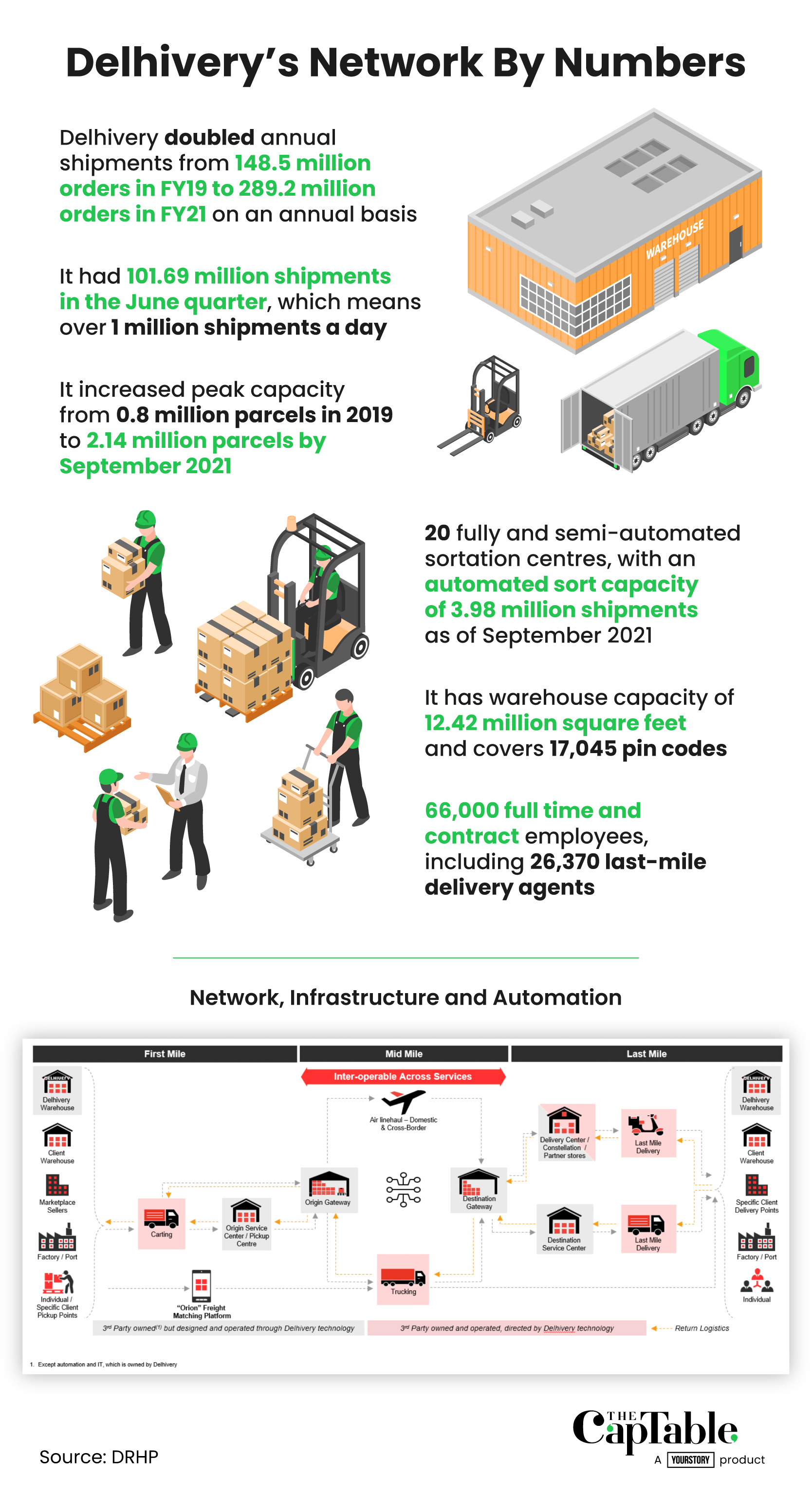 To put his statement in context: during the first five years of Delhivery's operations, a handful of large customers — Amazon, Flipkart, Snapdeal and Paytm Mall — dominated its client base. Flipkart and Amazon already had in-house delivery networks. So, in a way, Delhivery was a channel for them to fulfill excess orders.
Still, business from only two or more large players formed about 70% of Delhivery's overall volumes till 2016-17, according to experts in the logistics space.
"The company has always been very prudent in spending, and that has helped it survive," said the investor quoted earlier in the report.
Big clients continue to fuel its growth. "A significant portion of our business is attributable to certain large customers, with our top five customers contributing 48.78%, 41.75% and 42.66% of our total revenue for fiscal 2019, 2020 and 2021," the company has said in its draft red herring prospectus (DRHP) for the planned share listing.
But the rise of new ecommerce players and direct-to-consumer brands may open up more avenues for Delhivery even as it diversifies beyond express dispatches.
"There has been a concerted effort to diversify Delhivery's line of services and widen the customer base. Thankfully, with online retail adoption accelerating, the company's value proposition becomes stronger now," said an investor in the firm.
For the past few years, the company has been working on reducing its overdependence on ecommerce, the main driver of its business and oversized valuation. In the DRHP, it has described its ambition of building an operating system for commerce.
Most marketplaces, social commerce companies, online B2B platforms and traditional FMCG and BFSI firms are looking at outsourcing logistics, which could mean more business for Delhivery. The startup claims outsourcing logistics to third-party entities costs about 20% less than building a captive arm.
Before we examine this aspect, let's take a closer look at the company's numbers, which provide indications about the returns made by its early investors.
What The Financials Say
Delhivery increased its operating revenues by 120% to Rs 3,646.5 crore ($493 million) from FY19 to FY21 and cut losses by over 75%, from Rs 1,783.3 crore ($241 million) to Rs 415.7 crore ($56 million), during the same period. The topline number took it past Blue Dart as the country's largest logistics player.
The revenue share of express parcel services, part of ecommerce business, dipped from 83.04% in the year ended March 2019 to 69.94% for March 2021. The total revenue from the overall ecommerce business, however, rose by 86% to Rs 2,551 crore ($345 million) between FY19 and FY21, accounting for the bulk of the revenue growth.