The long engagement of foodtech major Zomato and quick-commerce app Blinkit finally came to fruition last week, at least two years after they were paired. The union, which Zomato's board blessed on June 24, was never in doubt. The only surprise is the drawn-out timeline, especially since the two sides go way back.
Albinder Dhindsa, the founder of Blinkit (aka Grofers), headed Zomato's international operations before starting his company in 2013. Zomato boss Deepinder Goyal was an angel investor in Blinkit. Dhindsa's wife has been a long-serving executive at the listed unicorn; she is currently the chief people officer.
Zomato's operations have spanned food delivery, restaurant discovery and table reservation. Instant grocery, a segment where rival Swiggy has built a lead, was the only missing piece in its life. Blinkit completes Zomato. We wrote about what such a deal would mean, and entail, shortly after Zomato's initial public offering in July 2021 and in March this year.
The outline of the transaction, which is awaiting 75% shareholder approval, has been widely discussed over the past few days. But there are finer points that need a closer look.
Worth remembering: Last August, Zomato paid $100 million for a 10% stake in Blinkit, which was valued at nearly $1 billion. The latest share swap gives Blinkit an equity valuation of $630 million. This shows how valuations in India's startup-land are sliding back to reality after topping out in 2021. The winter, so to speak, is here and a 30-40% correction in companies' worth is the new normal.
Cut-price deal: In the eight years since being founded, Blinkit has collected $692 million in venture capital. The $630-million valuation at which its buyout is proceeding is lower than its lifetime fundraising pot. One could argue that Zomato is getting a bargain.
A test case? In the past 12 months, half a dozen unicorns have gone public. Zomato is the first in this group to pursue an all-stock acquisition. It is already under fire for issuing shares at Rs 70.76, a discount of about 7% compared to its IPO share price of Rs 76. It is diluting 7.3% equity to get the remaining 91% stake in Blinkit. Will this become a precedent for all-stock acquisitions in India?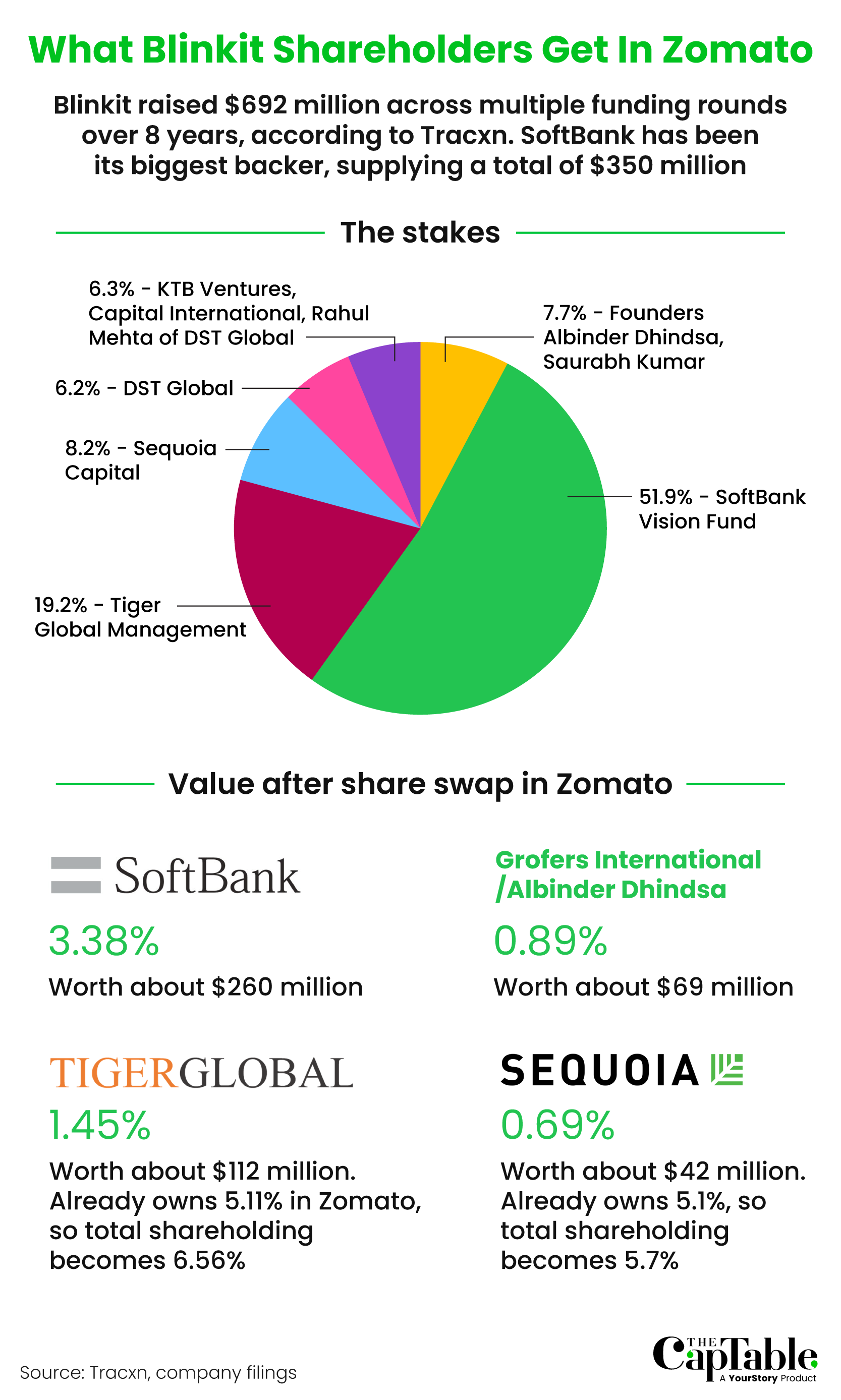 At the moment, investors don't seem very happy. Just two days after the details of the transaction were announced, Zomato's shares tumbled nearly 6.5% on Monday, losing Rs 3,581 crore, or $457 million, in market cap.
Perhaps the bigger question is how Zomato, which reported losses of Rs 1,220.3 crore in FY22, a jump of 48% from a year ago, will make unit economics of the combined business work. Blinkit's Dhindsa experimented with every possible online grocery format, from franchisee to value commerce. But this is one of the hardest online businesses to execute and sustain in India. It can be a bottomless barrel in terms of capital and costs.
Zomato had earlier said it would invest $400 million in quick commerce over the next two years. About $240 million remains in this particular war chest. Will it be enough now that Blinkit, a high spender like most quick-commerce apps, has been brought into the fold?
JM Financial report :
Given the competitive intensity in the quick-commerce space, we believe that the path to profitability for Zomato group (post-acquisition) can get extended by at least a year (from FY25 to FY26). Conservatively, estimate Blinkit to turn profitable by FY27.
In the post-acquisition announcement, Zomato revealed Blinkit was losing about $14 million a month as of May. This figure was about $26 million in January, so there has been an improvement of 45%. In the same period, Blinkit also boosted its revenues by 162% to hit Rs 58 crore ($7.4 million).
Still, cash will be a constant worry. Suppose Zomato decides to earmark the remaining $240 million to Blinkit. The latter will have a cushion for only 17 months, if we go by its latest burn rate of $14 million.
Zomato's top brass obviously thinks that Blinkit's burn rate will drop further soon. In recent months, the latter has closed a number of dark stores, the mini-warehouses that power ultrafast grocery deliveries. More could be shuttered as the two companies look for efficiencies.
"It is possible that this business becomes adjusted EBITDA break-even in less than three years. This is an educated guess at this stage, not guidance," said Zomato's chief financial officer, Akshant Goyal. (EBITDA is earnings before interest, taxes, depreciation and amortisation. It is a measure of a company's overall performance.)
Here are three reasons Zomato's bullishness about Blinkit's prospects borders overconfidence: