This is not a Hotstar obituary. It is, in fact, an ode to the force of nature the platform has been. Thus far.
But first, let's recount the developments of the past few days. Even as the Disney-owned platform was gearing up to stream two of the biggest sports events of the year—Asia Cup 2023 and ICC Men's Cricket World Cup 2023—it was, perhaps, only delaying the inevitable. The inevitability of being stripped of its proverbial crown and of becoming redundant.
As an indigenous, broadcaster-backed OTT in a TV-first country that lorded over global video-streaming giants like Netflix, Amazon Prime Video, and even YouTube for more than half a decade, Hotstar has already secured its place in the annals of Indian entertainment. But now, its star appears to be on the wane, with another indigenous peer breathing down its neck. Will there be a second act, though?
After losing the 5-year domestic cricket streaming rights to Reliance-owned JioCinema on Thursday, Hotstar finds itself in a bit of a quandary.
THE UPSHOT
In just 15 months, the platform has had to let go of the Indian Premier League (IPL), international HBO content, and now, the BCCI cricket matches—three pillars of its continued success since inception.
The rise and retreat
It all began in 2015. Until then, similar attempts made by entertainment companies—ZEE's Ditto TV, Times Internet's BoxTV, Singapore-based Spuul, etc.—to get Indian audiences to pay for content over the internet had failed to take off. But the tide turned when Hotstar started streaming the Cricket World Cup matches for free. In just a month, the little-known streaming service from India had garnered 10 million downloads and 25 million views to become one of the fastest-growing OTT services in the world.
Then came Reliance Jio in 2016, which rewrote the history of the Indian internet. With buckets of free mobile data at their disposal, young Indians lapped up everything Hotstar had to offer: cricket, kabaddi, saas-bahu soaps, Bollywood movies, American sitcoms, and much more. By 2016-2017, when Netflix and Amazon Prime Video were setting up shop on Indian shores, Hotstar was already country miles ahead of everyone.
At the December 2016 launch of Prime Video in Mumbai, a top Amazon official was asked if the tech giant was looking at streaming sports events too, given Hotstar's runaway success. "We know that India is a 'sports, sports, and more sports' country. We are evaluating various partnerships but nothing official yet," the Amazon executive told this writer.
Even though Amazon got into sports streaming later, its (and Netflix's) conspicuous absence from that segment in India only meant that Hotstar would go on to have an undisturbed reign for the longest time. Sure, homegrown SonyLIV had its occasional moments of glory too, but Hotstar managed to grow its user base faster than any streaming service in the world.
By 2019, when Game of Thrones returned to the platform for its eighth and final season, and before Hotstar went on to be acquired by Disney (as a part of its 21st Century Fox deal), it had zoomed past 300 million monthly active users (MAUs).
Addressing the Disney Global Investor Summit in 2019, Uday Shankar, then President of Walt Disney Company Asia Pacific, and Chairman of Star & Disney India, revealed that Hotstar accounted for 40% of all long-form digital content consumed in the country, and was even ahead of YouTube India (which had 265 million MAUs at the time).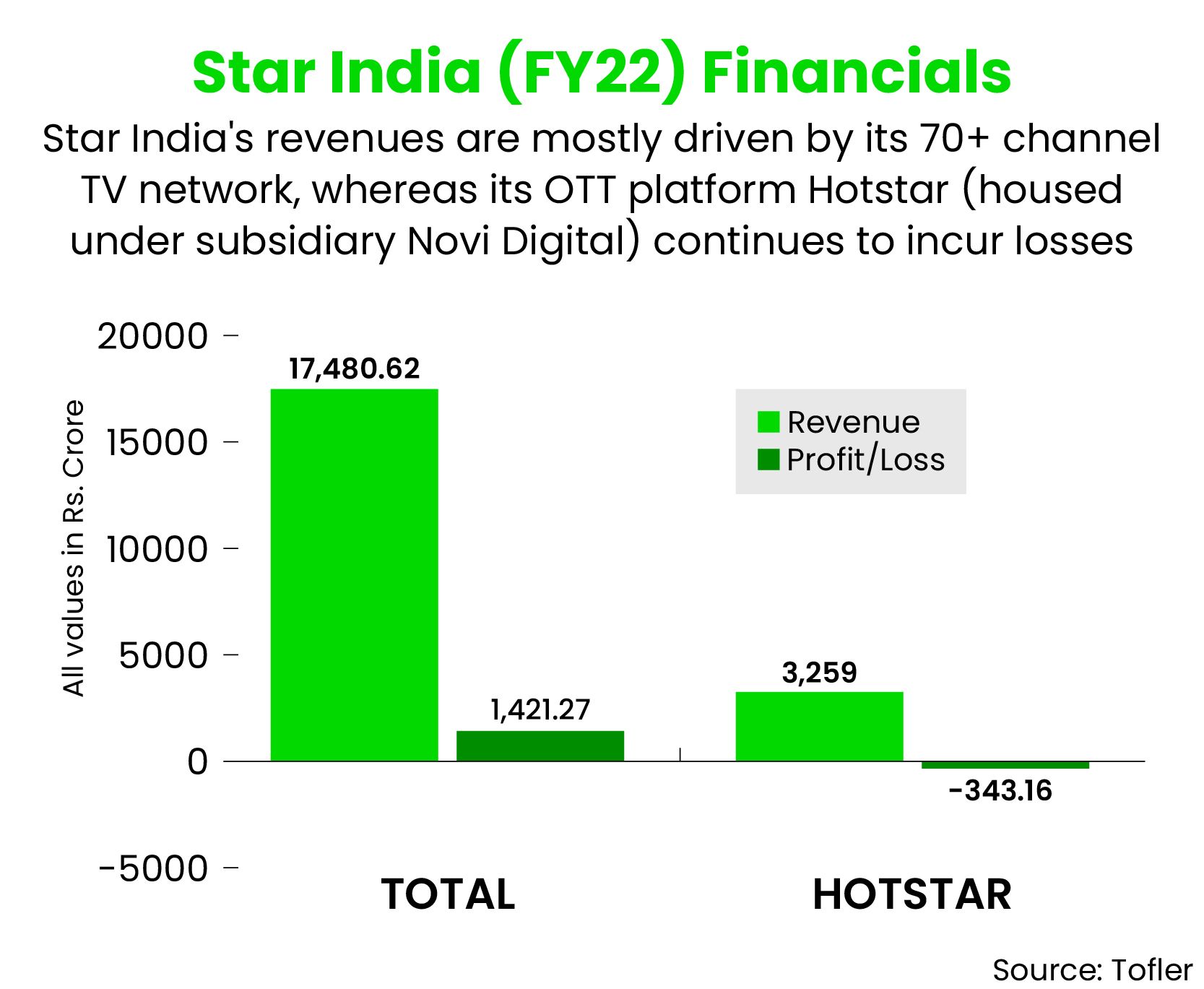 Something was surely going right. "First and foremost, we were ahead of the curve. When everybody was dismissing India as a data dark market, we anticipated the impending shift (in data cost, smartphone penetration, and online video consumption) and built Hotstar," Shankar explained in his keynote. "We also kept mobile and Android at the centre of our strategy, and created an app that was high-quality and feature-rich, but which was also extremely light and nimble," he noted.
Despite the thousands of hours of original programming it carried, Hotstar's real MVP remained cricket, which accounted for a whopping 60-70% of its numbers. The Indian Premier League (IPL), in particular, was its biggest customer acquisition vehicle as well as revenue driver. Between 2015 (when Hotstar began streaming IPL) and 2022 (the last year of IPL on the platform), the league's viewership skyrocketed from 41 million to over 400 million.
Hotstar, essentially, birthed a streaming template for India, replete with mobile-only subscriptions and freemium plans, that would eventually be aped by a challenger to bring about its demise.
Soon after India's richest man Mukesh Ambani threw his hat in the ring for cricket rights in June 2022, Hotstar began to shed subscribers. JioCinema's sharp ascent coincided with Hotstar's growing decadence. The latter has bled ~21 million paying subscribers since October 2022, and has also seen advertisers flock to disruptor-in-chief JioCinema. These events have also shaken Disney's faith in the Indian market, and the media behemoth has reportedly put its India assets on the block now.
The worst may not be over for Hotstar, though.
It is expected to lose another 15 million paid subscribers in the next two quarters, per a report by Media Partners Asia. Several users will likely not renew their plans after November 2023, when the ICC World Cup comes to an end. Hence, Hotstar's failure to secure the latest BCCI rights (2023-2028) might serve as a death knell. "Hotstar was always going to find it tough after IPL went to JioCinema. And if they didn't replenish it with new cricket rights, the drop would be sharper," an analyst told The CapTable.
A second coming?
Sure, Hotstar still owns the rights to the Pro Kabaddi League, the Indian Super League (ISL), and premium global events like the English Premier League (EPL), Wimbledon, and so on. But without marquee cricket events, on which its success has hinged for the past 6-7 years, Hotstar stands to cede further ground to JioCinema.
Karan Taurani, SVP at Elara Capital, states in a report, "Acquisition of BCCI bilateral rights will also enable JioCinema to become even bigger in the Indian OTT ecosystem; the platform has an advertising market share of ~22-24% already in CY23, after factoring IPL revenue and other content. Revenues can scale up further due to these rights, and this in turn, will intensify competition and work negatively for other broadcast-based OTT players like Disney+Hotstar, Sony, Zee."
What can Hotstar do to regain its past glory?
A few things, but there's a catch.
While STAR remains India's largest broadcaster network spanning the length and breadth of the country in terms of language offerings, its audience on digital is vastly different from that on television. As a result, the network has had to rely on sports and international titles to appeal to a new generation of upwardly mobile, digitally-savvy users, who may not find saas-bahu content enticing enough.
There's Hotstar Originals, of course, which Disney has been putting its money behind — literally and figuratively. But to consistently churn out new original programming, especially in an inflationary market, is a cost-intensive exercise. Add to that, digital in India doesn't yet enjoy the same economies of scale that television channels do. STAR's 70-channel TV network, for instance, reaches 9 out of 10 satellite homes in India, and over 700 million viewers across 100 countries. Hotstar, meanwhile, had 40.4 million subscribers at the end of June 2023.
Hotstar could potentially take the inorganic growth path, acquiring smaller regional OTTs to boost its content library and subscriber numbers. Similar to what Amazon did by acquiring MX Player earlier this year. Or, Disney could sell it off to a larger incumbent—Indian or global—and exit the market.
Nonetheless, the pecking order of video streaming in India may have changed irreversibly. And the game has only begun!