If at first you don't succeed, try, try and try again, goes the old saying. But after you do succeed, do you go back and still keep trying? Again, and again? The founders of app-based savings platform Jar certainly seem to think that's a sound idea, judging by their recent fundraising activities.
Launched in January 2021, Jar enables users to save as little as Re 1 in digital gold. At a time when most fintechs were chasing the credit market, Jar's savings proposition was a refreshing take. And investors bought into it, pouring money into the startup over multiple rounds. Indeed, founders Nishchay Ag and Misbah Ashraf proudly assert that it is 'the fastest growing fintech app in the country.'
In April last year, Jar had raised $500,000 from angel investors at a valuation of $2.2 million. Four months later, it raised another $2.1 million at a $14.1 million valuation from early-stage funds, including Arkam Ventures, Tribe Capital and WEH Ventures, aside from well-known angels such as Cred's Kunal Shah. Jar was unstoppable.
This February, it raised $25 million at a valuation of $165 million in a round led by Tiger Global Management.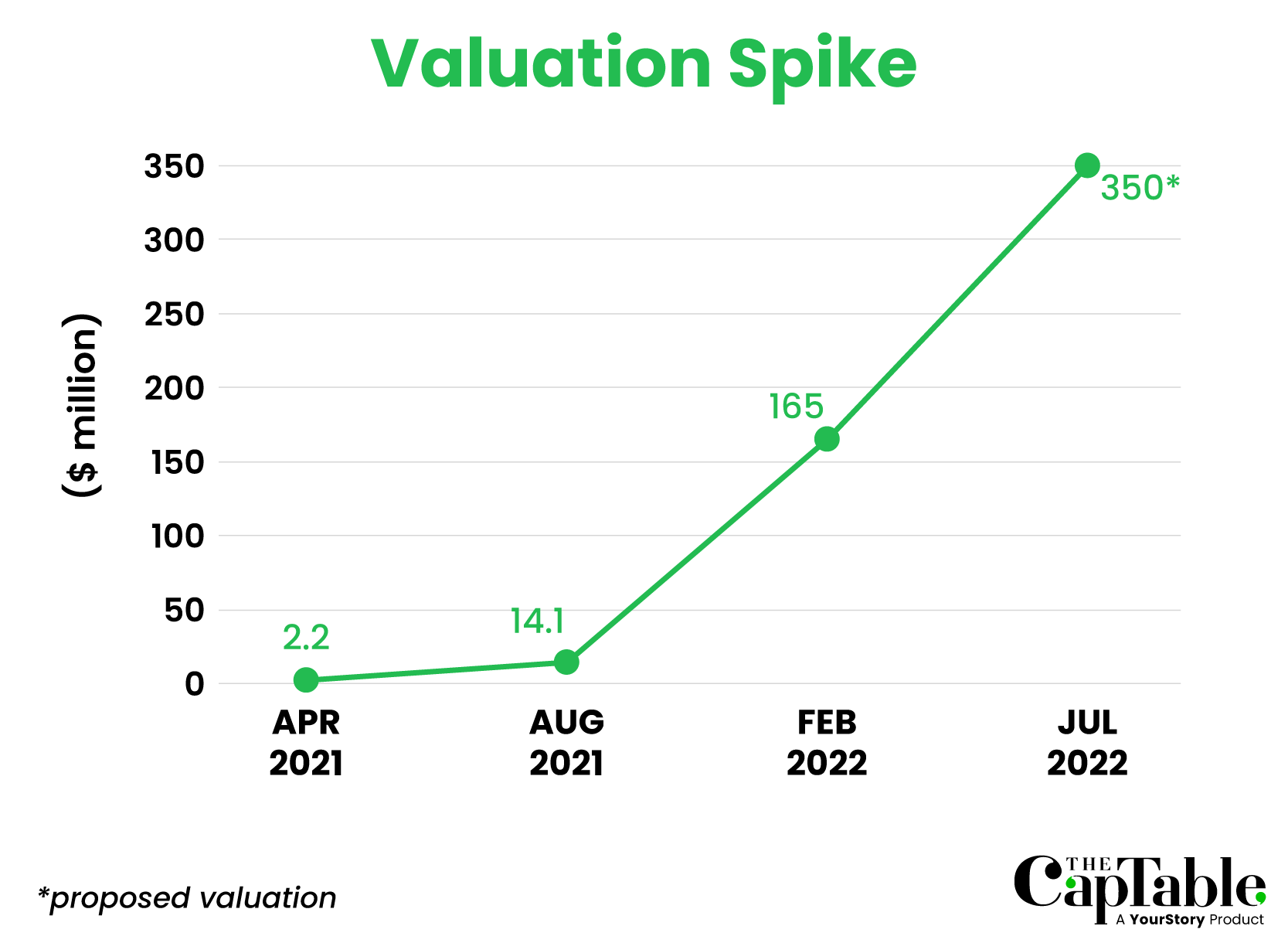 Then the funding winter set in and the season of tough love began.
In March, Jar was in the market to raise a $50 million round at a post-money valuation of $350 million, four investors told The CapTable. The pitch, which was first floated to top funds, mentioned that Tiger Global, an existing backer, has committed $30 million, and that other players ready to come in quickly would have to slug it out to contribute the remaining $20 million.
That construct seems to have fallen flat.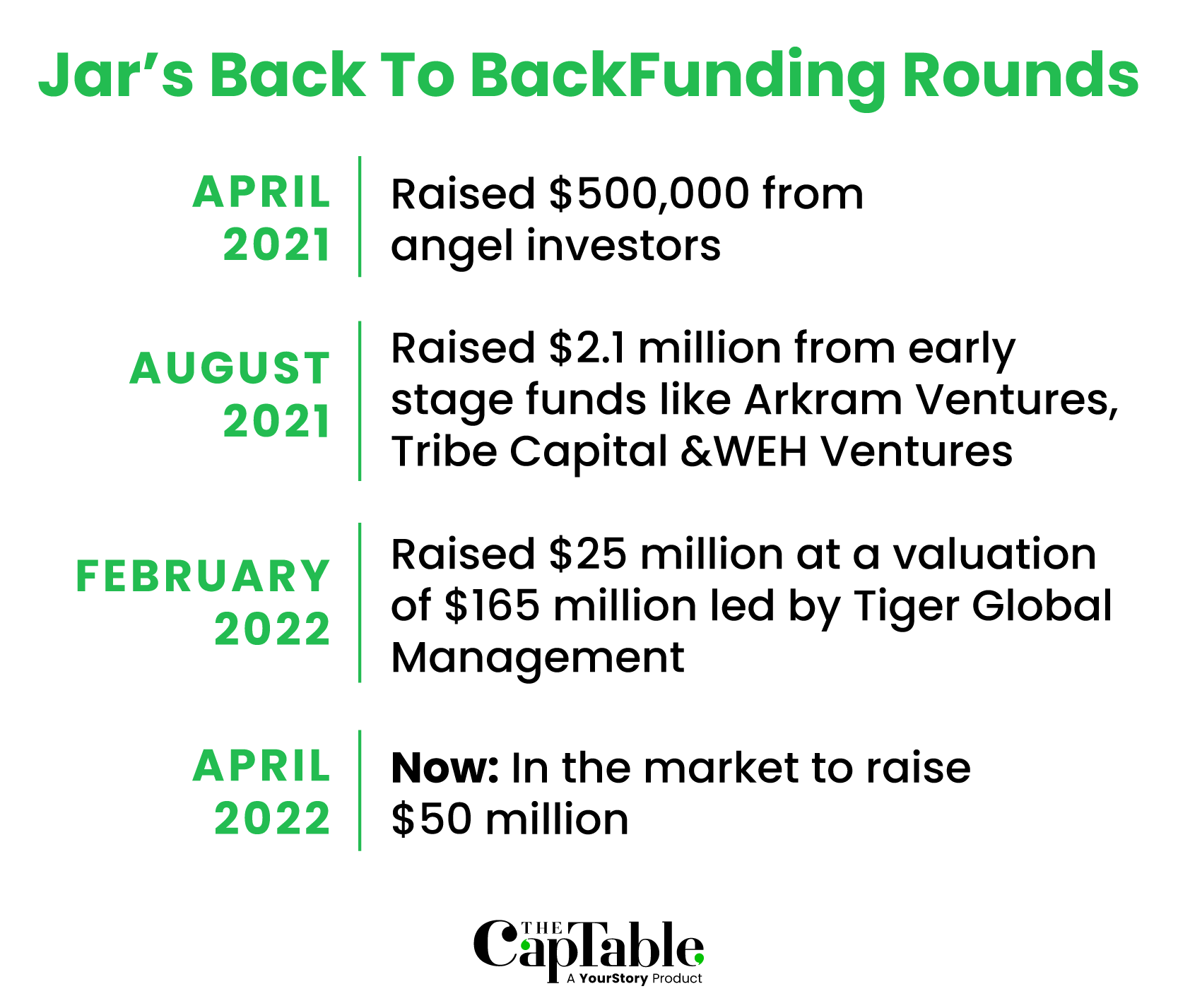 "Several top VCs were evaluating the company seriously but none committed," explained a person directly aware of the matter. "Tiger's commitment is also downsized. The sector itself has a lot of loopholes," he added.
Here's where it gets interesting.
In May, in a rather unusual move, Jar decided to list on the angel platforms LetsVenture and AngelList to raise funds with a pre-money valuation of $300 million. The move is unusual (though not unprecedented) because usually early-stage or new startups typically list on these platforms in the hope of attracting angel interest. Valuations range between $5–75 million. Jar is now well past that stage.
Jar is looking to put together $3 million through these platforms. But the deal pitch raises several questions. The biggest one: why is a Series B company on an angel platform, despite having a marquee investors in Tiger Global?
Soon after Jar listed on LetsVenture and AngelList, three investors active on the angel platforms expressed concerns to The CapTable on claims made by the startup, which they said didn't add up.
The round, they say, was inaccurately marketed.
As things stand, Jar is yet to close its $50 million round.
"We are positioned to pursue our funding of Series B, which would follow the previous Tiger Global led Series A round where we successfully raised $32 million," Jar's Nishchay told The CapTable.
The CapTable accessed documents shared by Jar to retail HNI investors and spoke to several people in the know to make sense of what transpired at one of the hottest startups of 2021, and why the deal, which claimed to be 99% subscribed, is still in the works. Sidenote: from floating a new round to closure typically takes a few months.
THE UPSHOT
As FOMO around startup investing comes to a standstill, several loopholes in Jar's business model and pitch promises have come to light, making for a case study on how boom and bear cycles change startup fortunes.
Multiple people close to the development say the narrative around the second-round construct is inaccurate. Specifically, they have cast doubts over the promise of Tiger leading a second round by investing $30 million. Jar declined to share the round construct details with The CapTable.
Tiger Global now only seems to be a participant in the latest round, and not the lead. "Tiger participated in the $50 million round by making a small investment.. It did not lead the round," said a person directly aware of the transaction. Tiger Global declined to comment.
"Headlines like 'Tiger Global-led Jar' can surely mislead people not clued into the ecosystem, who take these signs as an assumption at face value and believe there is a product-market fit for a marquee fund to invest again," said a person who invests via Syndicate deals.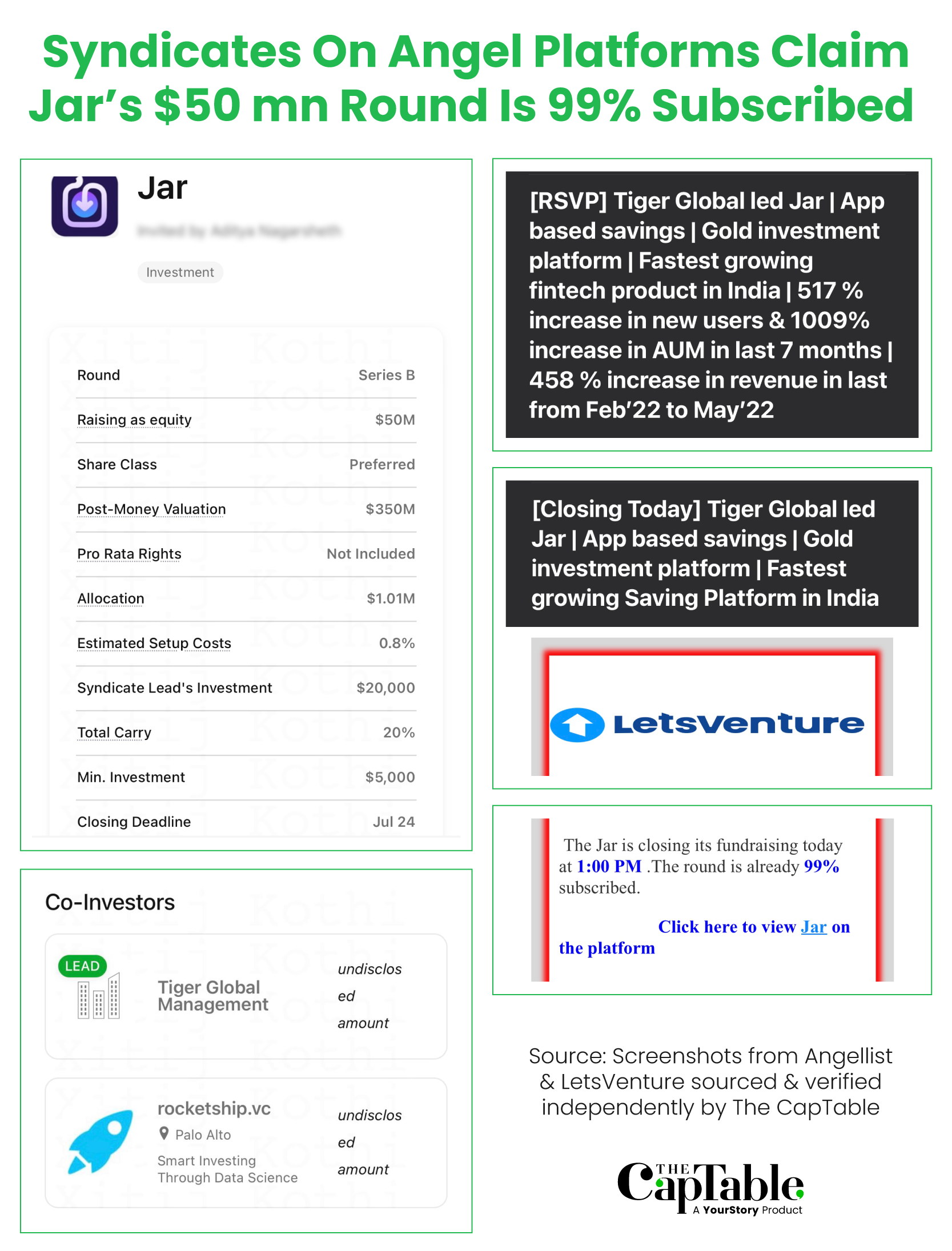 In an emailed response to The CapTable, Jar founder and CEO Nishchay Ag said, "Tiger Global is among our earliest and most keen investors. We look forward to confirming specific details of ongoing conversations in due course." He did not specifically address detailed queries sent by The CapTable on July 18.
For context, Tiger is facing pressures of its own. The hedge fund is down over 50% so far in 2022, having lost 14.2% in May alone.
"At best, Tiger would have promised that if Jar does raise a second round, the fund would consider participating and even consider leading. It's what all investors say when they make high-conviction bets.," said an investor directly in the know. "What was wrong was the fact that the deal was marketed as if the commitment was concrete," he said.
A media report separately also said that another Tiger Global backed startup Slice was facing challenges raising a follow up round. Slice was in the middle of raising an additional $50 million round, which is now on hold. The Economic Times attributed this to the Reserve Bank of India's circular last month barring prepaid payment instruments (PPIs) from loading credit lines.
Overall, it's not been an easy round for Jar to sell. Industry insiders fear that given the slowdown in the larger market, the entire commitment might not come in. To be fair, this also holds true for most tech entrepreneurs right now, as FOMO-driven term sheets are disappearing from the market. "This is a market where investors are looking for sustainable growth and economics… Jar's business model is a high-burn, high-return kind of bet," said a third investor who evaluated the firm.
Founder Nishchay claimed to angel investors that Jar had an ARR of $100,000 when Tiger's deal was announced in January, and that the company now has an ARR of $1.3 million as of May end.
The pitch and the reactions
The company's pitch is that the app will help 300 million UPI savvy Indians aged between 21-35 years save and invest in gold. That's the hook. This target segment, Jar argues, wants small-ticket value, easy decision making, and investment products without the hassle of the KYC process etc.
Investors particularly highlighted concerns around how the deal was sold, and later, on the pieces not adding up from the call with the founders. Some metrics shared on the investor pitch call seemed inaccurate, or were unaddressed by the founders.
"At an $18 million ARR as of December 2022, and a 2.4% average one-time take rate, how will the business make money to justify a $350 million valuation and an upside on that number," wondered an investor who evaluated the company. "It seems like the deal was for maximising valuation, with the pitch showcasing a 5-6X valuation upside as a point, and not a business metric," he added.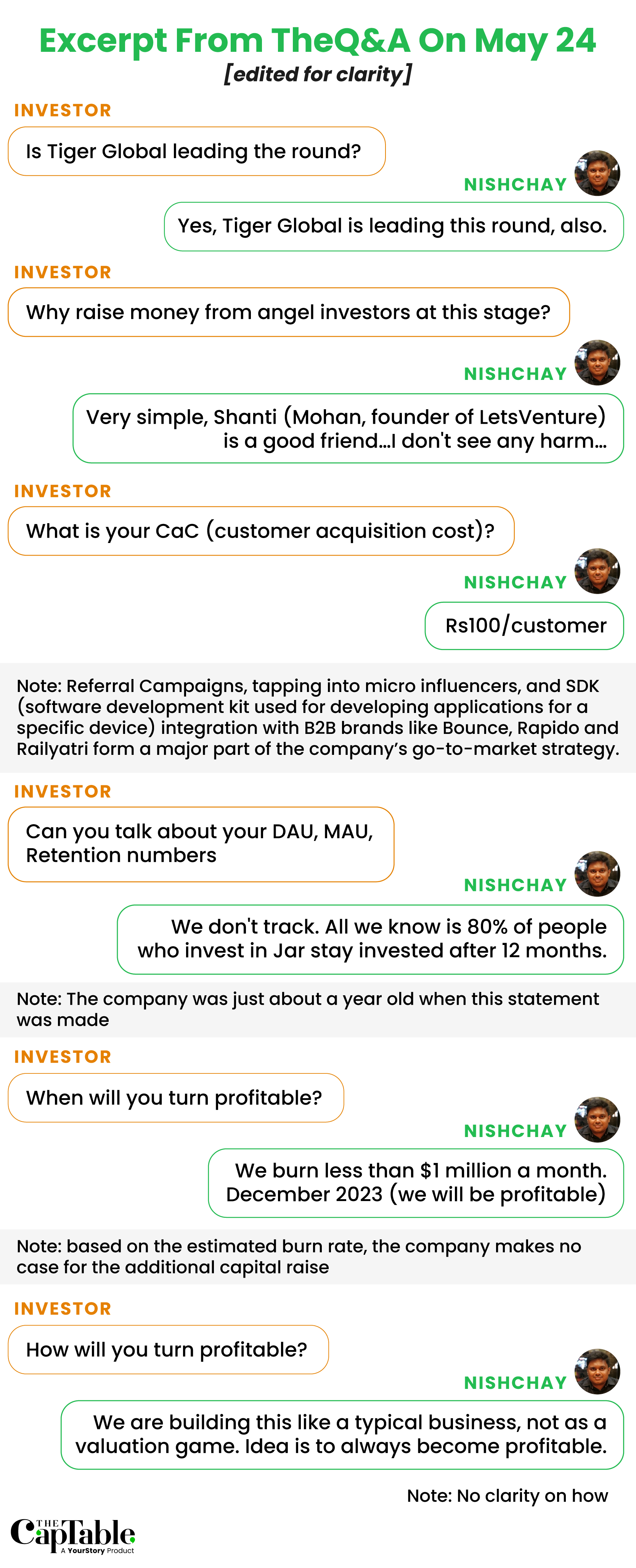 Nishchay, CEO, Jar :
Our investors have transparent, diligent and, most importantly, confidential access to our projections. With respect to our internal processes and the good faith expressed in us by our stakeholders, we will disclose specific figures to public forums when appropriate
The promise and timing of Jar
Jar was incorporated in January last year by Nishchay (60% holding) and Ashraf (40%). The company's first angel round was led by Prashant Priya, an early investor in Bounce.
Nishchay had returned from the US after earning an engineering degree. He was a founding member of Bounce, overseeing supply, monetisation and partnerships. Ashraf is a founding member of payment app Cibola. He last cofounded social commerce platform Marsplay, which was acquired by Matrix-backed Foxy.
The company shot to fame in February 2022 when it raised capital from Tiger Global, its first marquee investor.
The Jar app invests spare change and daily savings into Digital Gold. It gets ~2.4% commission from SafeGold (a gold distributor). It claims to carry out 180,000 investment transactions a day.
Digital gold is a digitised form of the yellow metal that can be bought and sold by retail investors through apps such as Google Pay, Paytm, Jar and others. Platforms such as SafeGold and MMTC-PAMP hold the physical asset in their secured vaults. If an investor wants his gold in physical form, it can be shipped to his/her home directly.
In August 2021, the stock exchanges asked broking platforms to stop selling digital gold, but investment platforms and payment apps continue to sell it.
Here's how it works on Jar: when a consumer buys something online, Jar rounds off the transaction to the nearest 10. For instance, if a consumer orders food on Swiggy for Rs 93 then Jar would round off the purchase to Rs 100 and invest the Rs 7 balance into digital gold, through Safegold.
Jar allows consumers to withdraw their investment into a wallet or ships the digital gold in physical form to the consumer's registered address.
The company has three products:
1. Auto Invest: The app fetches a tiny amount each time a user makes a transaction. It rounds up an individual's daily spends and puts some money aside as an investment.
2. Daily Saving: Here, a fixed amount ranging from Rs 20 to Rs 2,000 is deducted from a user's account through the auto pay feature and invested in Digital Gold every day.
3. Manual investment: Here an investor purchases gold manually by clicking on the 'Invest More' button on the Jar home screen, entering the amount of gold s/he wishes to purchase, and making the payment. Once the payment is successful, gold will be added to his//her Jar locker.
The company told investors it also plans to launch Gold-backed credit cards and other financial products to diversify and invest customers' savings.
The CapTable understands that Jar aims to expand its offering to cover exchange traded funds (ETFs), sovereign gold bonds (SGBs) and other securities through its platform. A recent media report, citing regulatory filings said that it has proposed to form a wholly owned subsidiary to obtain a licence, as Sebi regulations bar a company that is a registered investment advisor from engaging in distribution of unregulated commodities such as digital gold.
Microsavings: A challenging space
In the initial days, Jar stood out with its product proposition around savings, when everyone in the fintech space wanted to lend. During the boom cycle over the last two years, such propositions flew with investors.
A senior venture investor, who has evaluated this sector, said that the product was refreshing, noting that from a social standpoint, the country needed better savings platforms.
But an excellent pitch deck does not always translate into a great product-market fit. And micro savings as a sector soon showed signs of being a poor fit.
"Jar pitched that it wanted fresh funds to enter the lending and insurance space. Gold-backed lending could be an option, but such products have not been built yet," said the investor quoted above.
But what is the right valuation for a company operating in the digital gold business? After all these are the times when revenue potential and market penetration are top of mind for investors. And digital gold as a savings mode is not enough of an attraction for a cash-strapped/inflation-beaten population.
There were two major problems:
1. Consumers from weaker economic backgrounds or young adults typically do not have much to save at the end of the month.
2. Savings in digital gold are not that attractive. Consumers cannot see or possess it, and it attracts charges in forms of commissions and long-term capital gains tax.
Nishchay, CEO, Jar :
Our business model is continually evolving to optimise internal operations and offerings. Our extremely efficient user acquisition costs are a direct result of thoughtful innovation that makes our product increasingly resonant with our target market.
A fintech founder building a micro savings product pointed out that companies have tried two major things to keep their customers engaged:
1. Offer incentives and cashbacks to get them to save. Jar also has an extremely interesting gamified user interface that makes the act of saving exciting.
2. Platforms offer consumers the option of getting physical gold shipped to their address.
Typically when a consumer sells the gold he/she has, around 6% is charged as fees, split between the platform and the company which holds the gold. So platforms like Jar make money through a 2-3% distribution fee, levied on the consumer.
So, typically a consumer needs gold to appreciate by that much to be able to make money, even after deducting all the commissions.
But it is not digital gold that is the only attraction here. Platforms that start with gold are expected to expand into other savings products, too. For Jar, this expansion has not gone as planned.
Jar's rival Siply, too, has a similar product proposition around digital gold. It tried to open mutual fund investments as an option beyond gold. But that never took off.
Industry insiders attributed this to lack of awareness among small-town consumers about mutual funds and also the lack of disposable income to invest in market linked savings products.
Siply, founded in 2020, has till date raised around $25 million from investors such as QI Venture Partners, LetsVenture and JITO.
"There is enough value in opening savings for small-town consumers and blue collar workers, but financial literacy being low, there is a major impediment to adoption on a large scale," said the executive quoted above.
On paper, working with banks to create a neobanking savings proposition is an option microsavings outfits can pursue. But unlike with lending, banks do not pay hefty commissions for savings products. In lending operations, agents get a fat commission, whereas savings add to costs for banks and commissions tend to be very low.
There are not many revenue-generating opportunities here and cross-selling chances are limited given that the visibility on the income of the consumer is low.
"How do you know what kind of product would best suit these consumers? You have no or very limited visibility on their consumption trends," the founder cited earlier added.
Some investors who evaluated the company believe that Jar should not be seen as a pure-play fintech business. Given the low amount per-transaction, they believe that Jar's play is more to do with creating a viral app, and driving stickiness to increase daily active users.
Daily active users on the android app were at 521,000, which fell to 371,000 in July. Downloads fell in the same period indicating the company started cutting costs. "This is a high-GMV, low-take-rate business, with additional regulatory compliances to follow," said a fourth investor that The CapTable spoke to.