Yesterday, Zomato announced its quarterly earnings, surprising everyone by reporting its first-ever quarterly profit.
The Rs 2 crore profit after tax comes a good nine months ahead of schedule, with the company stating in the previous quarter that it would take another year to touch profitability.
While this milestone has arrived ahead of schedule, Zomato is confident it will be able to remain profitable. Zomato Chief Financial Officer Akshant Goyal stated on the company's earnings call that the company would continue to deliver 40% revenue growth year-on-year for at least the next two years.
Zomato's revenue of Rs 2,416 crore in the quarter ended June 2023 already represents 70% year-on-year growth. Here's what is driving this improvement.
1. Zomato Gold boosts food delivery business
Unsurprisingly, the biggest contributor to Zomato's overall revenue was its core food delivery business. The segment saw revenues of Rs 1,312 crore in the quarter ended June 2023. What was surprising, though, was how strongly the business grew.
Zomato's gross order value (GOV)—the cumulative value of all food delivery orders placed on the platform—jumped 11% compared to the previous quarter, touching Rs 7,318 crore. This is especially significant as the prior quarter actually saw a quarter-on-quarter drop in GOV.
Zomato attributed the improvement in its food delivery business to rising demand as well as the latest avatar of its loyalty programme, Zomato Gold. Tellingly, nearly a third of Zomato's GOV for the quarter was driven by Zomato Gold members, the company stated.
Impressively, the growth of Zomato's food business comes despite rising food inflation in the country. Large QSR chains, including Burger King, Pizza Hut, and McDonald's have even readjusted their growth targets for the year as discretionary spending on food has slowed.
"Quite contrary to that (inflationary pressures), we are seeing a lot of small restaurants, given the lack of growth in their business in the last 6-9 months, spending on ad sales on our platform to grow," Goyal said during the earnings call.
2. Hyperpure turns on the afterburners
The second biggest contributor to Zomato's topline was its farm-to-fork inventory and kitchen supplies business Hyperpure. The company acquired this vertical back in 2018, and has grown it in the shadows of its food delivery business ever since. In the past year, however, the vertical has truly come into its own, with revenues growing 126% year-on-year (29% quarter-on-quarter) to Rs 617 crore in the quarter ended June 2023.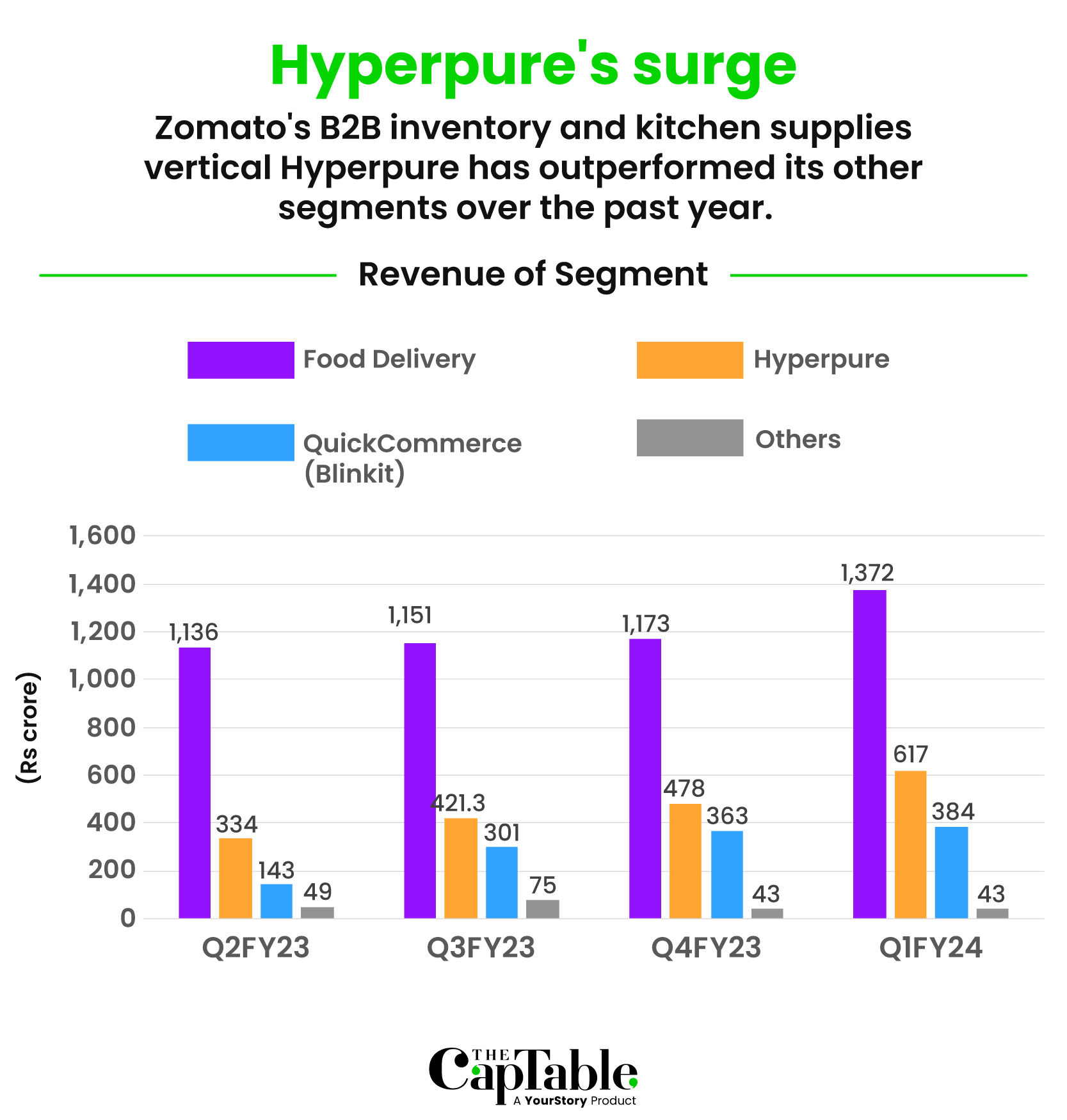 As per Zomato's management, this growth in revenue was the result of both growth in the restaurant supplies business as well as increased utilisation of Hyperpure's supply chain for quick commerce business via Blinkit.
Additionally, Zomato's management explained that the company raised Hyperpure's minimum order value, resulting in higher average order values (AOV). This drove the growth in overall collections and margins. During the previous quarter, the company introduced a delivery charge for orders below a certain minimum value, which saw increased collections even as the overall volume of orders dropped.
Crucially, Hyperpure's margins have also improved significantly—from -16% to -4.7%, year-on-year. Zomato stated that the business' margins will only improve over the next few fiscals.
An analyst report by brokerage Motilal Oswal forecasts that the Hyperpure segment will see a compounded annual growth rate (CAGR) of 36% between the years ended March 2023 and March 2025. According to Motilal Oswal, the business will break even well before Zomato's target of March 2024.
3. Blinkit stumbles
Blinkit, Zomato's quick-commerce business, was the lone damp squib for the company. The vertical saw a decline in total orders, recording 36.8 million orders compared to 39.2 million orders in the previous quarter. Blinkit also recorded a slowdown in the growth of both GOV and revenue. Its GOV jumped just 5.5% quarter-on-quarter to Rs 2,140 crore. In the previous quarter, Blinkit's GOV grew by 16%.
Blinkit, however, did see its unit economics improve, thanks largely to its AOV inching closer to the Rs 600 mark. Albinder Dhinsa, cofounder and CEO of Blinkit, attributed Blinkit's underwhelming performance to the disruption it faced in April when it changed its payout structure for delivery workers in Delhi-NCR, the segment's biggest market. Saying the company has experienced healthy growth since June, he expects the growth rate to recover and grow more than 20% in the next quarter.
Interestingly, despite the changes to Blinkit's payout structure, there has not been any change in its delivery costs. Dhindsa maintained that the object of the payout changes wasn't cost savings but rather "to make sure that our entire delivery fleet was on the most fair and equitable payout structure".
In its report, Zomato said that the company plans to open over 100 Blinkit dark stores in the year ending March 2024. Dhindsa said that most of these dark stores will be opened in existing cities, rather than in newer markets. And even as Blinkit looks to expand, it has one eye firmly focused on profitability.
"Doing that (moving towards profitability) in conjunction with the store expansion plan is going to be challenging, but the team is very determined to deliver on growth AND profitability over the next few months," said Dhindsa. "We are also confident that we will get to Adjusted EBITDA breakeven at a cumulative investment much lower than $320 million that we had indicated in August 2022."
4. A fourth growth engine
Zomato is planning to launch a new app, Going-out, focussed on its dine-out business and live events. It already hosts events such as music and food festival Zomaland, and stated that the new app will integrate its live events and ticketing experience with its dine-out feature.
It expects this business to be the fourth largest in Zomato's portfolio going forward. The company has already hired a social media team to manage the app's portfolio for Delhi, Mumbai, and Bengaluru. As per sources who spoke with The CapTable, the company is still hiring software development engineers and designers for the new segment.
"Next quarter onwards, we are going to report Go Out as a separate business segment in our financials. We are also contemplating spinning out our Going-out business into a separate app, in line with our so-far-successful strategy of building super brands (and not super apps)," the company said in its report.
Zomato's decision to launch Going-out as a separate app—much like how it operates Blinkit—is in sharp contrast to Swiggy's approach to entering new segments. The latter seemingly wants all its verticals housed within one app. Earlier this week, The Economic Times reported that Swiggy plans to integrate its premium grocery delivery service Insanely Good into the main Swiggy app.
Even as Zomato puts the final touches on this new business, the company is already looking at fine-tuning its existing operations. As per the management, the company is looking to maintain positive margins for the next four quarters and improve operating margins in the quick commerce vertical as well. Zomato has also ruled out inorganic expansion and mergers and acquisitions as it seeks to conserve its cash balances in anticipation of strong competition from arch-nemesis Swiggy.